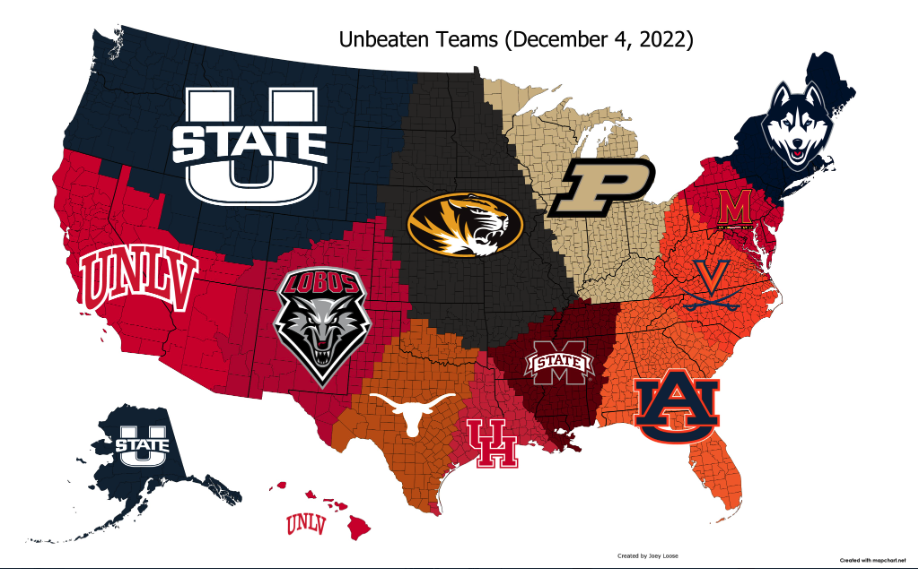 In 2019-20, the best day during the San Diego State basketball season was the day after a victory.
Why? Because that's when a new map came out from Joey Loose (@jloose128) on twitter. Loose starts the season with all the college basketball teams on a map of the United States. As teams lose, they fall out. Eventually, there's only one team left.
That season, the whole map eventually was colored completely red with a big Aztec logo in the middle as San Diego State was the last unbeaten team standing.
This year, the Aztecs fell off the map early after competing in the Maui Invitational.
This year, it's UNLV basketball fans that can monitor the map. The Rebels are 8-0 on the season, with a win over a then-ranked Dayton at home. They recently went on the road for a win over University of San Diego. On Wednesday, the Rebels play at the Dollar Loan Center in Henderson against Hawaii. On Saturday, UNLV again plays in town, but this time at the MGM Grand Garden against Washington State.
The Rebels return to the Thomas & Mack Center on Dec. 17 against the University of San Francisco and then close out the non-conference slate on Dec. 22 against Southern Mississippi.
The Mountain West Conference is well represented on this year's map. Besides the Rebels, unbeaten teams currently include Utah State and New Mexico.
It took until Jan. 15 of 2020 for San Diego State to clear the field and claim Loose's map. The Aztecs beat Fresno State on Jan. 14 to get to 18-0, and then the other team left on the map, Auburn, lost on Jan. 16.
The Aztecs, UNLV fans remember, made it all the way to 26-0 before the Rebels pulled the upset, 66-63, in Viejas Arena.