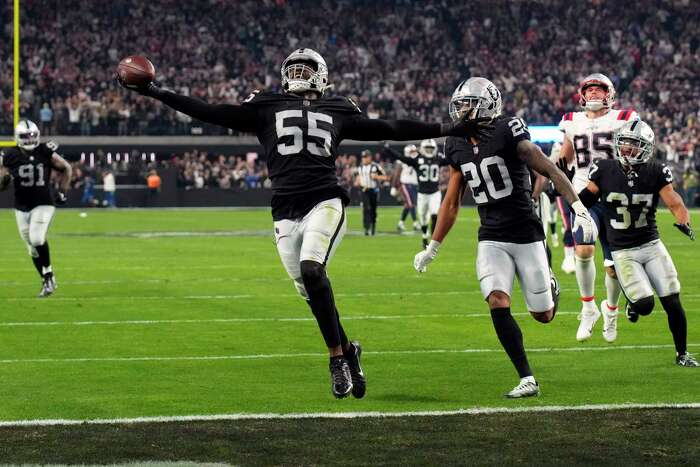 In a game that the Las Vegas Raiders first year head coach Josh McDaniels had circled on his calendar as a "must win", the Raiders offense came out at full strength for the first time since week 5. Darren Waller and Hunter Renfrow entered the game after returning from the injured reserve list with injuries that had sidelined them for a majority of the season. Waller picked up right where he left off scoring on a 25 yard strike from Derek Carr to increase the Raiders lead to 10-3. Later in the 2nd quarter, Carr hit Mack Hollins on a low dart to take the Raider to 17-3 entering the half.

As the Raiders took the field after the defense held the Patriots to a punt, Patriots defender Kyle Duggar read a short Derek Carr pass to Davante Adams perfectly for a 4 yard interception return for a touchdown. The Raiders second half adjustments have plagued the team all season long, allowing four double digit comebacks by their opponents and the Patriots were no different as the Raiders allowed the Patriots to score 21 points in the second half.
With the Raiders facing a loss, they were able to hold the Patriots on defense and force another punt giving Derek Carr and the Raiders another opportunity to tie the game. Carr's first three passes fell incomplete until facing 4th and 10 he hit Mack Hollins on a 12 yard strike to secure the first down which led to a masterful drive targeting Jacobs, Hollins, Renfrow and Waller down the field before completing a 30 yard touchdown pass in the corner of the end zone secured by Keelan Cole with the tie being locked up by Daniel Carlson.

The Patriots received the ball with 32 seconds left and were able to run successfully up the middle with Rhamondre Stevenson picking up 12 yards to record a first down. With 10 seconds left in the game, Stevenson breaks for another long run as time began to expire he lateraled the ball to Jakobi Meyers and Meyers attempted a backwards pass to Mac Jones, only for the pass to be intercepted by Chandler Jones who returned the ball 48 yards for his first career touchdown and a Raiders victory. A true rollercoaster of emotions that has been dubbed the "Sin City Miracle".