UNLVRebels.com
For the first time in its 65-year existence, the Runnin' Rebels played a game in Henderson Wednesday night and in doing so, improved its record to 9-0 this season to mark their best start in 12 years.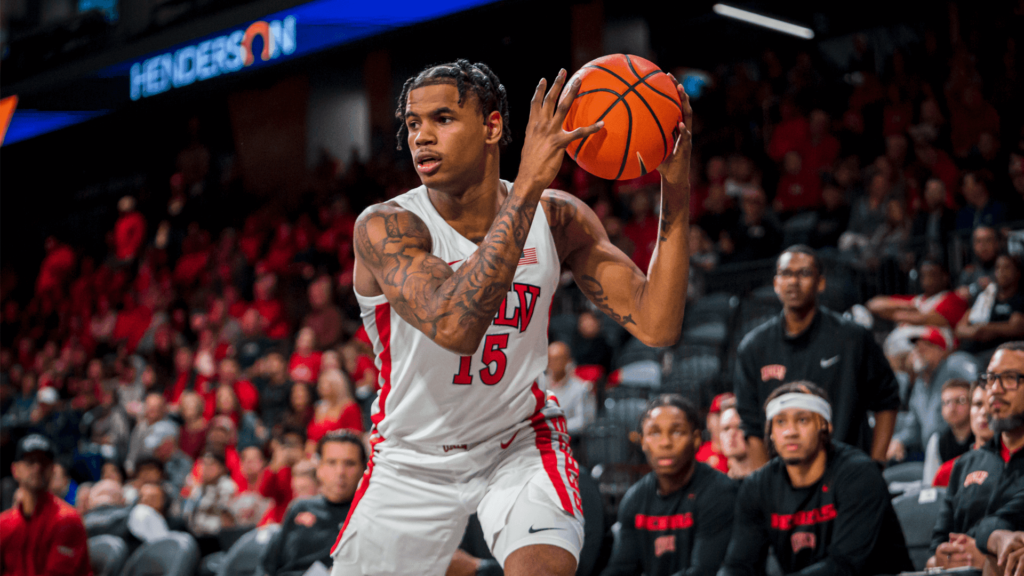 Four players scored in double figures for the UNLV men's basketball team as it defeated Hawaii 77-62 at The Dollar Loan Center.
Luis Rodriguez led all scorers for the second straight game with 18 points, while grabbing seven rebounds with two steals, while Justin Webster and Keshon Gilbert each scored 13, and EJ Harkless added 10. David Muoka scored nine points with game highs of nine rebounds and three blocks.
The Rainbow Warriors (5-3) were led by Kamaka Hepa's 15 points, while Beon Riley contributed 12 points and a team-high eight rebounds.
THE TURNING POINT: UNLV closed the first half on a 17-4 run to take a 41-22 lead at the break. UNLV led by as many as 21 points early in the second half.
SINGLE DIGITS IN THE SECOND HALF: Hawaii cut its deficit to single digits late in the second half (7:25), but Rodriguez made back-to-back 3-pointers and later stole the ball, finishing with a dunk to make it a 65-51 game about a minute later.
FORCING TURNOVERS: UNLV ranks No. 1 in the nation in forcing turnovers. The Runnin' Rebels forced Hawaii into 18 miscues, marking the ninth straight contest that UNLV's opponent has committed at least 17 turnovers.3-POINT GOAL: UNLV shot 62.5% on 3-pointers in the first half (5 of 8) and finished the game at 44.4% (8 of 18).
QUOTABLE: "Overall, the guys did what they've been doing. Did a great job of guarding people, creating a little bit of a cushion in the first half which ended up becoming the difference in the game. That's become their M.O. – a relentless defensive presence in the first half and when you're playing against teams that have a lot of pride, they make it interesting. We knew that, we expected it and we knew Hawaii was going to make a run. But our guys did what they needed to – turned it up a notch at the end and I think we were pretty fortunate to come away beating a very good Hawaii team." – UNLV head coach Kevin Kruger.

OTHER NOTES:
– It was UNLV's seventh straight win against the Rainbow Warriors and improved its all-time record in the series to 25-9.
– UNLV held Hawaii to just 2 of 14 (14.3%) on 3-pointers in the first half and 6 of 29 for the game (20.7%).
– UNLV outscored Hawaii by 11 points at the free-throw line (23-12).
– Gilbert added team highs of four assists and three steals.
– Rodriguez (3 of 7) and Webster (3 of 4) each made three 3-pointers on the night.
– UNLV scored 21 points off turnovers, compared to Hawaii's 12 off of UNLV's 13 miscues.
– UNLV led in fastbreak points 18-2.
– UNLV has made at least one 3-pointer in a NCAA-record 1,170 straight games.
NEXT FOR THE RUNNIN' REBELS: UNLV will remain in Las Vegas and play at another venue away from campus on Saturday (Dec. 10) in the Las Vegas Clash at the MGM Grand Garden Arena. The Runnin' Rebels will face Washington State at 1:30 p.m. as part of a doubleheader with No. 10 Arizona vs. No. 14 Indiana to follow at 4:30 p.m. For tickets, visit https://lasvegasclash.com/