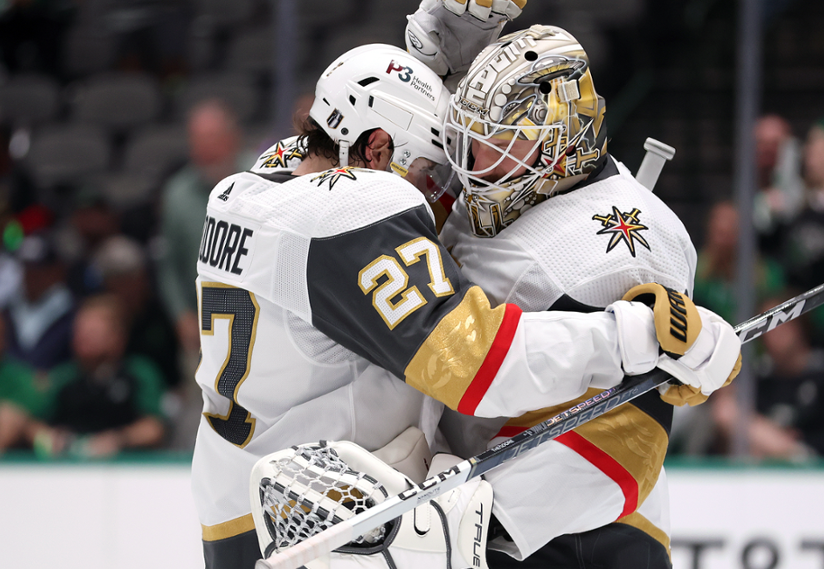 The Vegas Golden Knights are set to unleash the next generation of potential NHL superstars.
The team officially announced the roster and schedule for the 2023 Rookie Faceoff, which is presented by Martin-Harris Construction. The roster consists of 28 players (17 forwards, eight defensemen, 3 goalies) from the Golden Knights. These young players will be showcased against rookie rosters from the Anaheim Ducks, Arizona Coyotes, Colorado Avalanche, Los Angeles Kings, and San Jose Sharks.
The tournament, which takes place from September 15-18 at City National Arena in Summerlin and The Dollar Loan Center in Henderson, will be streamed live online for fans in each market. The games will also be broadcast on FOX Sports Las Vegas 98.9 FM / 1340 AM on the radio. Henderson Silver Knights broadcaster Brian McCormack and a few special guests will call the action locally.
Tickets for the 2023 Rookie Faceoff are on sale now for the two Golden Knights games at The Dollar Loan Center at this link. Due to limited capacity, all games at City National Arena during the 2023 Rookie Faceoff will be limited to select season-ticket members only.
VEGAS GOLDEN KNIGHTS 2023 ROOKIE FACEOFF ROSTER
FORWARDS: Jakub Brabenec, Brendan Brisson, Mathieu Cataford, Ty Cheveldayoff, Daniel D'Amato, Jakub Demek, Robbie Fromm-Delorme, Patrick Guay, Jordan Gustafson, Ben Hemmerling, Bear Hughes, Jett Jones, Simon Pinard, Mason Primeau, Matyas Sapovaliv, Alex Swetlikoff, Tuomas Uronen
DEFENSEMEN: Layton Ahac, Daniil Chayka, Artur Cholach, Lukas Cormier, Matteo Fabrizi, Joe Fleming, Arttu Karki, Christoffer Sedoff
GOALTENDERS: Jordan Papirny, Isaiah Saville, Jesper Vikman
NUMERICAL ROSTER:
No. Name Position
5 Daniil Chayka Defenseman
8 Mathieu Cataford Forward
12 Jakub Brabenec Forward
13 Jakub Demek Forward
15 Christoffer Sedoff Defenseman
24 Brendan Brisson Forward
25 Matyas Sapovaliv Forward
26 Arttu Karki Defenseman
31 Isaiah Saville Goaltender
32 Jesper Vikman Goaltender
37 Tuomas Uronen Forward
38 Jordan Gustafson Forward
40 Lukas Cormier Defenseman
42 Alex Swetlikoff Forward
44 Layton Ahac Defenseman
47 Patrick Guay Forward
52 Artur Cholach Defenseman
53 Simon Pinard Forward
54 Matteo Fabrizi Defenseman
57 Mason Primeau Forward
60 Bear Hughes Forward
63 Ben Hemmerling Forward
68 Jordan Papirny Goaltender
77 Ty Cheveldayoff Forward
83 Daniel D'Amato Forward
89 Robbie Fromm-Delorme Forward
91 Jett Jones Forward
95 Joe Fleming Defenseman
VEGAS GOLDEN KNIGHTS 2023 ROOKIE FACEOFF SCHEDULE
Thursday, September 14
-Rookie practice, 10:00 a.m. PT (City National Arena)
Friday, September 15
-Vegas Golden Knights vs. Anaheim Ducks, 7 p.m. PT (The Dollar Loan Center)
Saturday, September 16
-Vegas Golden Knights vs. San Jose Sharks, 7 p.m. PT (The Dollar Loan Center)
Sunday, September 17
-Rookie practice, 9:30 a.m. PT (City National Arena)
Monday, September 18
-Vegas Golden Knights vs. Colorado Avalanche, 3 p.m. PT (City National Arena)