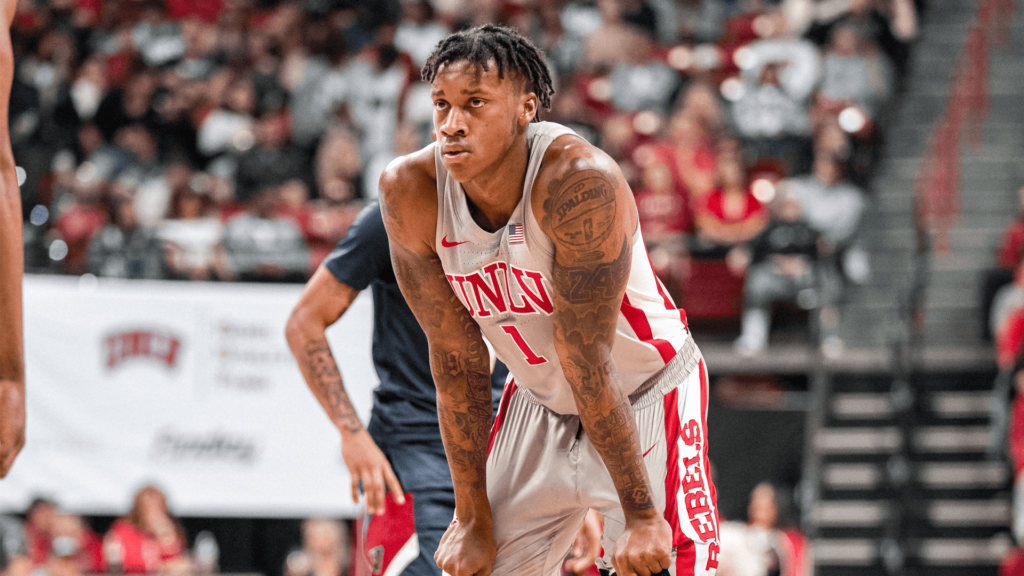 UNLVRebels.com 
The UNLV men's basketball team (15-8 overall, 4-7 Mountain West) will head back out on the road this week to play at Wyoming on Wednesday night, Feb. 8, at 8:30 p.m. MT/7:30 p.m. PT and at No. 25/23 San Diego State on Saturday afternoon, Feb. 11, at 1 p.m.
LAST TIME OUT: In their last game, which was Friday night against Fresno State at the Thomas & Mack Center, the Runnin' Rebels lost 82-79. EJ Harkless led all scorers with 27 points, while Keshon Gilbert added 19 and Luis Rodriguez contributed nine for UNLV, which had won three straight games entering the contest. Fresno State shot 52.9% on 3-pointers (9 of 17).
THIS SEASON: Harkless leads the team in scoring with 17.4 ppg (2nd in MW) and is contributing 5.0 rebounds, 3.6 assists (10th in MW) and 1.5 steals per game (8th in MW). Gilbert is second in scoring at 12.4 ppg with a team-leading 3.6 apg (9th in MW) and 2.0 spg (3rd in MW, 43rd in the country). Rodriguez is third in scoring with 11.9 ppg, while leading the team in both rebounding (5.7 rpg, 10th in MW) and steals (2.1 spg, 2nd in MW, 33rd in the country). David Muoka is third on the team in rebounding (4.7 rpg) and leads the squad in blocks with 1.4 bpg (4th in MW).
This season's Runnin' Rebel squad features six returners and nine newcomers, including six transfers from the Division I level. The 15-man roster is made up of 10 upperclassmen.
ABOUT THE OPPONENT: Wyoming (7-15, 2-8) has split its two games since losing at UNLV, 86-72, on Jan. 24. The Cowboys defeated Fresno State at home (85-62) on Jan. 31 and lost at San Jose State (84-64) on Saturday. The Cowboys are led in scoring by Noah Reynolds (14.5 ppg, 9th in MW)) and Hunter Maldonado (14.0 ppg). Hunter Thompson is the team's rebounding leader at 5.4 rpg, while Maldonado leads the team in assists at 3.7 apg (8th in MW) and steals with 1.4 spg (10th in MW). Wyoming is 6-5 this season in home games. Last season, the Cowboys were 25-9 overall and finished fourth in the MW with a 13-5 league mark. The Cowboys received a bid to the NCAA Tournament, falling to Indiana in the First Four (66-58). This season's team was picked to finish second out of 11 in the MW's preseason poll with Graham Ike being selected as the Preseason Player of the Year and Ike and Maldonado both being named to the Preseason All-Conference Team. Ike has been injured all season. Wyoming's 15-man roster includes 10 upperclassmen. The Cowboys are coached by Jeff Linder, who is in his third season at the school with a record of 46-34 (.575) and his seventh season overall as a collegiate head coach with a career mark of 126-84 (.600).
LAST MEETING: Four Runnin' Rebels scored in double figures as UNLV defeated Wyoming 86-72 in the last meeting between the two teams on Jan. 24 at the Thomas & Mack Center. Harkless led all scorers with 28 points, while Gilbert and Jordan McCabe each contributed 12, and Keyshawn Hall added 10 as the Runnin' Rebels snapped a four-game losing streak. Wyoming was led by Reynolds' 23 points. Xavier DuSell made a game-high six 3-pointers to tally 18 points and Maldonado had 11 points. UNLV shot 53.7% from the field (29 of 54) and 55.0% on 3-pointers (11 of 20).
BROADCAST INFO: Wednesday night's game will be televised on FS1 with Jenny Cavnar and Jess Settles calling the action. Jon Sandler and former Runnin' Rebel Curtis Terry will handle the UNLV radio call, which may be heard live on ESPN Radio 1100 in Las Vegas. All streaming links and live stats will be available at UNLVRebels.com and through the UNLV Rebels App.