After starting the season 7-0 for the first time in 11 years, which has included a win over then-No. 21 Dayton and capturing the SoCal Challenge title just before Thanksgiving, the UNLV men's basketball team will travel to San Diego to play its first true road game of the season against USD on Saturday, Dec. 3 at 7 p.m.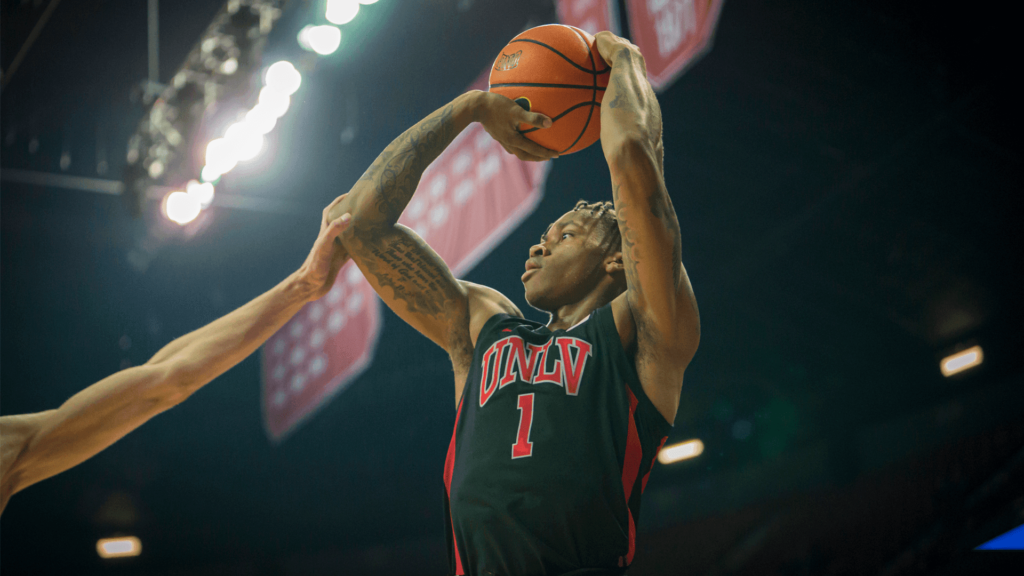 LAST TIME OUT: UNLV recorded a 72-point win (126-54) last Saturday against Life Pacific, a NAIA school from San Dimas, Calif., at the Thomas & Mack Center. The margin of victory was one point shy of the Runnin' Rebel record. Five UNLV players scored in double figures led by Karl Jones' double-double of 20 points and 12 rebounds. Jackie Johnson III added 14 points, Keshon Gilbert scored 13, Jordan McCabe contributed 12 and David Muoka had 11 as 14 of the 15 Runnin' Rebels scored in the contest. UNLV shot 61.9% (52 of 84) from the floor and 57.7% (15 of 26) from 3-point range.
ABOUT THE ROSTER: This season's UNLV squad features six returners, nine newcomers, including six transfers from the Division I level, and a total of 10 upperclassmen. The lone returning starter is 6-foot guard Jordan McCabe, who was a senior last season and returns for his fifth year for 2022-23. Other returners include 6-3 senior guard Justin Webster, 6-10 senior center David Muoka, 6-4 sophomore guard Keshon Gilbert, 6-7 senior forward Victor Iwuakor and 6-3 senior guard Cameron Burist.
The newcomers include 6-10 redshirt sophomore forward Isaiah Cottrell, who is originally from Las Vegas and transferred to UNLV from West Virginia, 6-7 freshman guard Keyshawn Hall from Cleveland, Ohio, 6-3 fifth-year guard EJ Harkless, who transferred from Oklahoma, 5-11 sophomore guard Jackie Johnson III, who transferred from Duquesne, 6-10 junior forward Karl Jones, who transferred from LA Southwest College, 6-6 sophomore guard Shane Nowell, who transferred from Arizona, 6-4 fifth-year guard Elijah Parquet, who transferred from Colorado, 6-6 senior guard Luis Rodriguez, who transferred from Ole Miss and 6-1 junior guard Nick Walters, who transferred from the College of Southern Nevada.
After seven contests, Gilbert leads the team in scoring with 15.9 ppg, while shooting 55.7% from the field and 63.6% on 3-pointers, in addition to averaging 3.3 assists and 2.0 steals per game. Harkless is scoring 14.1 ppg with 4.6 rebounds per game and 2.9 apg and 1.4 spg. Rodriguez is also averaging double figures in scoring at 10.9 ppg and rebounding with 5.9 rpg, while leading the team in steals at 2.7 per game (16th in the nation). David Muoka is the team's leading rebounder (6.1 rpg).
ABOUT THE OPPONENT: San Diego (5-3) started the season winning four of its first five games with the lone loss during that stretch being to Utah State in overtime. The Toreros have since dropped two of their last three contests. USD has five players averaging double figures in scoring led by Jase Townsend's 16.5 ppg. Eric Williams Jr., who is second on the team in scoring (14.7 ppg), leads the team in rebounding (10.3 rpg). Sigu Sisoho Jawara is the team's assist leader (3.8 apg). San Diego finished the 2021-22 season with an overall record of 15-16, finishing seventh in the West Coast Conference with a 7-9 league mark. This season's team was picked to finish eighth in the WCC's preseason poll. The Toreros' 19-man roster includes eight upperclassmen. USD is coached by Steve Lavin, who is in his first year with the school and has a career mark of 231-136 (.629).
BROADCAST INFO: Saturday's game will be broadcast on the WCC Network with Jack Cronin calling the action. Jon Sandler, former Runnin' Rebel Curtis Terry and Steve Cofield (sidelines) will handle the UNLV radio call, which may be heard live on ESPN Radio 1100 in Las Vegas. All streaming links and live stats are available at UNLVRebels.com and through the UNLV Rebels App.
LAST SEASON: The Runnin' Rebels turned in a successful season in 2021-22, their first under head coach Kevin Kruger, winning 18 games, which marked the most for UNLV in four years. The team went 10-8 in Mountain West play, exceeding preseason expectations with a fifth-place finish in the league standings. With a revamped roster that included nine transfers, the team continually improved as the season progressed, advancing 43 spots in the KenPom ratings along the way. Under Kruger's leadership, three UNLV individuals earned All-Mountain West accolades last season: Bryce Hamilton (First Team), Donovan Williams (Sixth Man of the Year) and Royce Hamm Jr. (Honorable Mention).