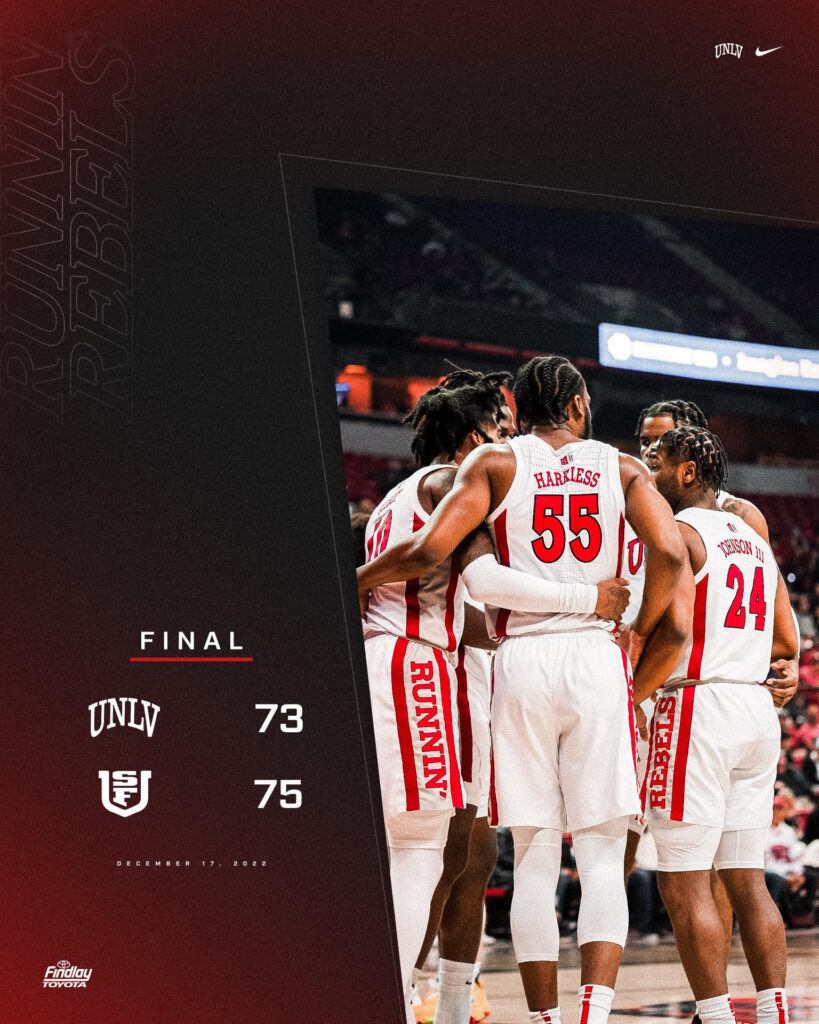 UNLVRebels.com
For the first time in 11 games this season, the Runnin' Rebels came out on the losing end as San Francisco scored the game's final 11 points in a 75-73 decision Saturday afternoon at the Thomas & Mack Center.
UNLV (10-1) was led by EJ Harkless' 21 points, while Luis Rodriguez contributed 17 with seven rebounds and three steals. David Muoka also had seven rebounds, while Keshon Gilbert dished out six assists.
Three San Francisco (9-3) players scored 17 points apiece, while another was in double figures with 11. Zane Meeks led the Dons with a double-double of 17 points and a game-high 17 rebounds. He shot 8 of 10 from the field. Khalil Shabazz and Tyrell Roberts also scored 17 each.
TURNING POINT: UNLV led by as many as 11 points in the second half and after USF cut its deficit to just three with 7:30 to go, the Runnin' Rebels increased their advantage to nine at 73-64 with 3:07 to go. The Dons scored the game's final 11 points from there.
ENDING SEQUENCE: UNLV led by a point (73-72) with 12.9 seconds to play, and just four on the shot clock, but a Roberts 3-pointer barely beat the shot clock to give USF a 75-73 lead. Gilbert attempted a 3-pointer that missed at the buzzer.
QUOTABLE: "Obviously, a tough one. It felt like we played a pretty good game overall, just that stretch at the end ended up costing us. There is a lot to take from it. We will recalibrate on Monday, get back to it and tighten some things up going into the Southern Mississippi game on Thursday." – UNLV head coach Kevin Kruger.

OTHER NOTES:
– UNLV entered the day as one of only seven remaining unbeaten teams in the country.
– The 10-0 start was UNLV's best in 32 years (1990-91).
– It was the 17th all-time meeting between the two schools in men's basketball. UNLV leads the all-time series 9-8. USF has won the last two meetings.
– UNLV held USF to just 38.2% shooting in the first half, including 16.7% on 3-pointers, but the Dons made 48.4% of their shots overall in the second half.
– UNLV shot 51.6% from the field in the first half, but just 40.6% in the second half, including 1 of 10 on 3-pointers.
– USF's biggest lead of the night was two points.
– The Runnin' Rebels led 46-37 at halftime.
– UNLV led in points in the paint 36-28, fastbreak points 11-5 and bench scoring 22-14.- USF led in rebounding 41-36 and 16-11 in offensive boards.
– UNLV has made at least one 3-pointer in a NCAA-record 1,172 straight games.
NEXT FOR THE RUNNIN' REBELS: UNLV will close out its non-conference schedule on Thursday, Dec. 22 vs. Southern Mississippi at the Thomas & Mack Center at 7 p.m. Tickets may be purchased at UNLVtickets.com.