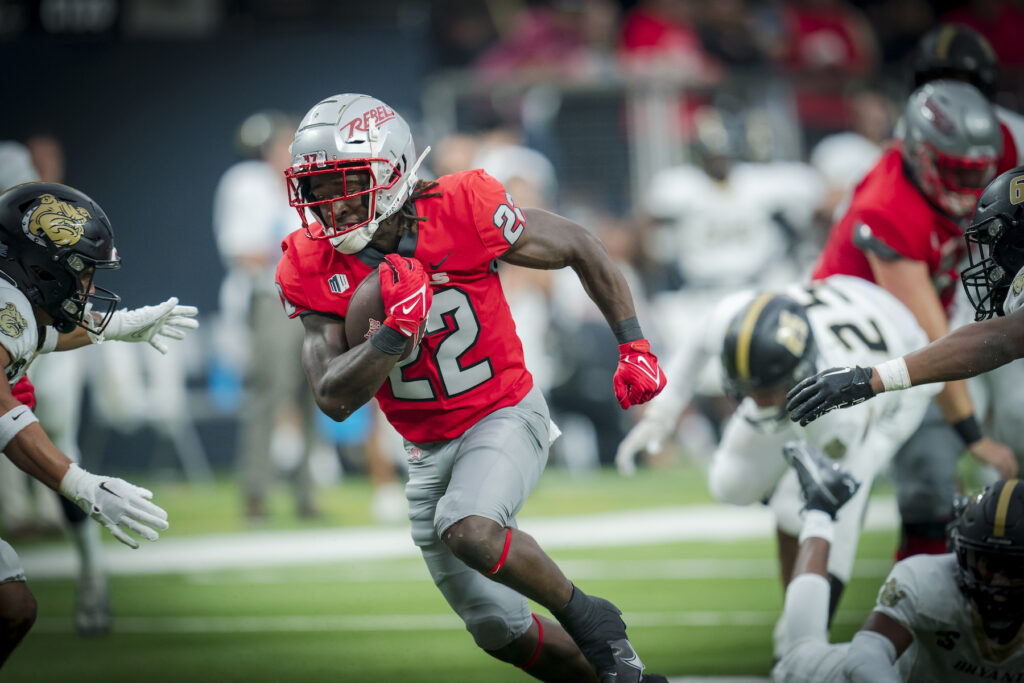 It only took one play for the UNLV football team to take all the suspense out their season-opening game against Bryant from the Big South League. The Rebels beat the Bulldogs 44-14 on Saturday afternoon in Allegiant Stadium
Running back Vincent Davis Jr. took a handoff from Doug Brumfield on the first play of the game and broke loose for 69 yards and a touchdown. Twenty seconds into the game and the score was 7-0.
Bryant ran six plays before turning the ball over on downs at their own 41 and the Rebels capitalized on the great field position for another touchdown, this time on an 18-yard run by Jai'Den Thomas. The Rebels led 14-0 with 2:38 left in the half.
UNLV added a field goal, a 48-yard connection by Jose Pizano, on their third possession of the game and the score was 17-0. It remained that way until the final minute of the first half, when Brumfield scrambled and rushed 19 yards for a score.
But it wasn't just the Rebel offense with the big plays. The UNLV defense had an interception and held the Bulldogs on three fourth-down tries, including once from their own 1 yard line. Bryant also missed a field goal in the first half.
Rebels dominate in second half
The second half was more of the same as the Rebels extended their 24-0 advantage to 44-14 for the final score. The Rebels scored 17 points in the third quarter on a 37-yard field goal by Pizano, a 2-yard run by Donavyn Lester and an 8-yard run by Thomas. Bryant got on the board with on a 1-yard touchdown run by Ryan Clark.
In the fourth quarter, Bryant scored on another 1-yard Clark run to cut the lead to 41-14. The Rebels came back with a 35-yard field goal from Pizano.
Stats
Brumfield completed 11 of 18 passes for 86 yards and one interception and also rushed for 71 yards and another score. Davis carried the ball only three times, but gained 79 yards with a touchdown while Thomas rushed for 60 yards and two scores. As a whole, the Rebels rushed for 283 yards.
Both teams finished with 409 yards in total offense.
The Rebels will travel to play at MIchigan next week.