UNLVRebels.com
SAN DIEGO – The UNLV men's basketball team (8-0) was dominant in its first true road game of the season recording a 95-78 victory over San Diego at the Jenny Craig Pavilion. 
The Runnin' Rebels remained perfect through eight games, marking their best start to a season in 11 years (2011-12).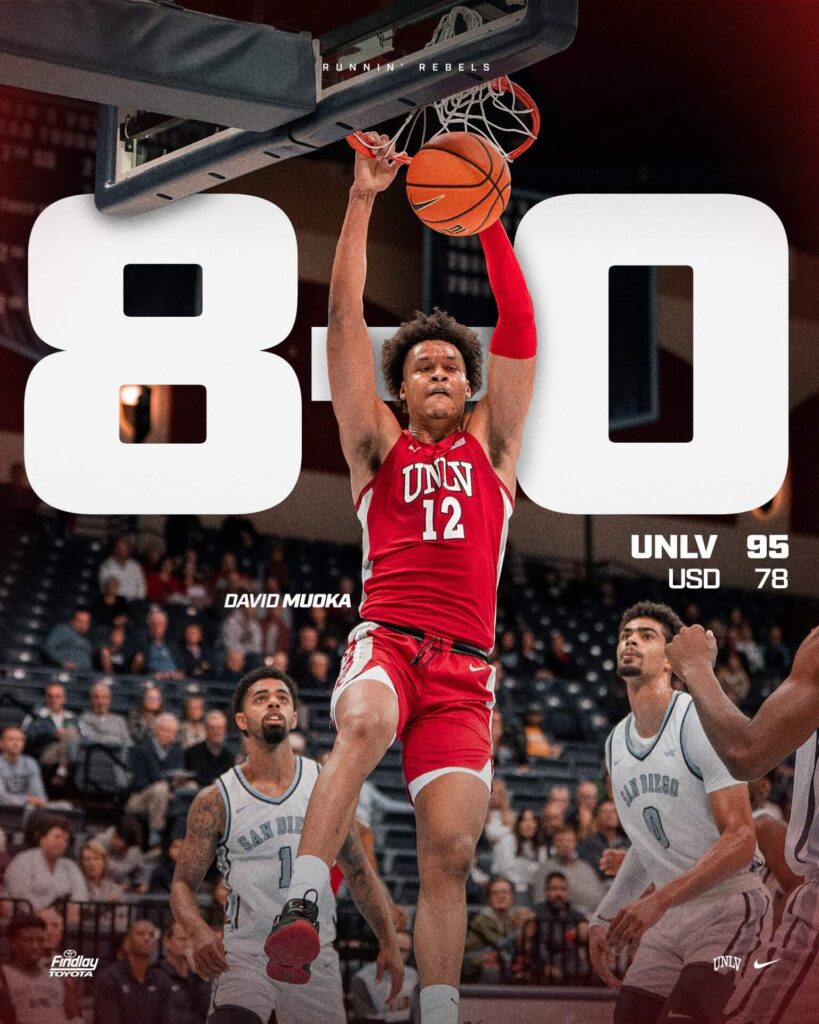 Four UNLV players scored in double figures, led Luis Rodriguez' career-high 19 points. EJ Harkless added 17, Justin Webster had a season-high 16 and Jackie Johnson III contributed 12.
USD (5-4) had five players score 10 or more points, led by Eric Williams Jr.'s double-double of 16 points and 14 rebounds.
THE REBELS WERE RUNNIN': UNLV shot 52.5% from the field for the game, 48.1% on 3-pointers, scored 31 fast-break points and led by as many as 31 halfway through the second half.
TURNING POINT: Trailing 14-12 early in the contest, UNLV used a 13-0 run over 2:30 to take a 25-14 lead with just under nine minutes until halftime. The Runnin' Rebels then took a 12-2 spurt into the break to lead by 21 at 49-28.3-POINT GOAL: UNLV made 13 3-pointers on the night, which marked its second-highest total of the season.DOUBLE-FIGURE STEALS: UNLV recorded 10 steals in the game, marking the fifth time this season it was in double figures in that category.
QUOTABLE: "Tonight showed our growth. They are having fun right now. We had a week layoff, which was a concern. We weren't sure how we were going to handle that, but our success has been a result of how hard they are playing defensively. We had guys doing a really good job running, getting to good spacing and creating good looks for each other. I think they had a lot of fun out there tonight." – UNLV head coach Kevin Kruger.
OTHER NOTES:
– David Muoka pulled down a team-high eight rebounds with eight points on 4 of 4 shooting with a season-high four blocks.
– Keshon Gilbert dished out a game-high-tying seven assists without committing a turnover.
– Rodriguez shot 7 of 9 from the field, including 3 of 5 on 3-pointers.
– Webster made all four of his 3-point attempts.
– UNLV shot 54.2% in the second half, including 53.8% on 3-pointers.
– UNLV had 19 assists on 31 made field goals.
– UNLV held USD to just 38.7% shooting in the first half, but the Toreros made 54.8% in the last 20 minutes, including 54.5% on 3-pointers.
– UNLV forced USD to commit 17 turnovers for the game. UNLV has forced all eight of its opponents into at least 17 miscues this season.
– UNLV led in bench points 38-20 with 28 of those coming from Webster and Johnson III.
– UNLV has made at least one 3-pointer in a NCAA-record 1,169 straight games.
NEXT FOR THE RUNNIN' REBELS: UNLV will host Hawaii at the Dollar Loan Center in Henderson on Wednesday, Dec. 7 at 7 p.m. For tickets, visit TheDollarLoanCenter.com.