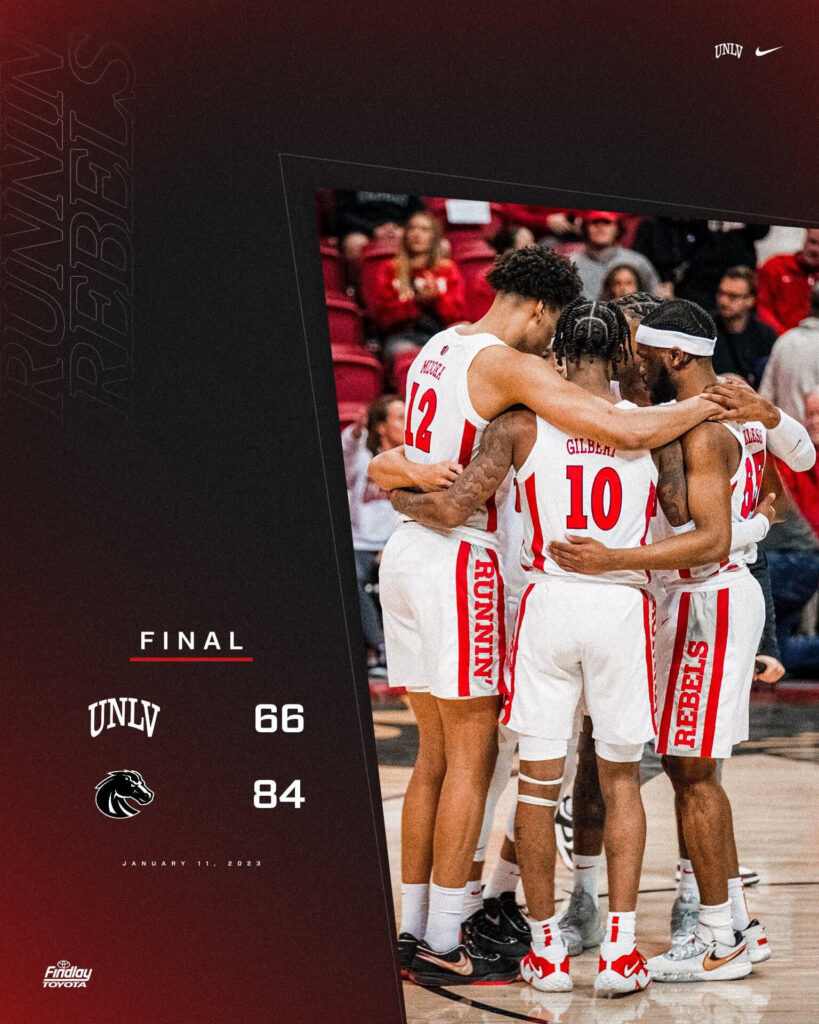 UNLVRebels.com
The UNLV men's basketball team (12-4 overall, 1-3 Mountain West) was defeated by Boise State, 84-66, Wednesday night at the Thomas & Mack Center.
Three Runnin' Rebels scored in double figures, led by Keshon Gilbert's 14 points. Justin Webster added 13 and EJ Harkless contributed 12.
Five players scored in double figures for the Broncos (13-4, 3-1). Tyson Degenhart and Chibuzo Agbo each scored 17 points and combined to shoot 14 of 19 from the field. Degenhart added 12 rebounds and six assists.
STAT OF THE GAME: Boise State shot 71.4% (20 of 28) from the field and 61.5% on 3-pointers (8 of 13) in the second half and finished the game at 56.4% and 53.8%, respectively.
TURNING POINT: UNLV took a 33-31 lead into halftime, but Boise State began the second half on a 14-3 run and led by 16 with 11 minutes to play. The Runnin' Rebels cut their deficit to six points but couldn't get closer.
OTHER NOTES:– Degenhart was 8 of 9 from the field, while Agbo was 6 of 10. Marcus Shaver Jr. added 15 points with six assists and Naje Smith had six blocked shots.- Boise State made 14 of 26 3-pointers for the game and outscored UNLV 53-33 in the second half.- Gilbert was 6 of 12 from the field, while Webster was 5 of 9. – Gilbert had four assists. Luis Rodriguez and Jordan McCabe each finished with seven rebounds.- McCabe scored all nine of his points on 4 of 6 shooting and grabbed all seven of his rebounds in the first half. – UNLV managed just 6 of 14 on free throws.- Boise State outrebounded UNLV by four, 35-31.- Boise State led in second-chance points 13-7.- There were six lead changes and one tie throughout the game.
– UNLV has made at least one 3-pointer in a NCAA-record 1,177 straight games.
NEXT FOR THE RUNNIN' REBELS: UNLV will remain home at the Thomas & Mack Center on Saturday, Jan. 14, to host Colorado State at 4 p.m. Legendary "Voice of the Rebels" Dick Calvert will be honored at halftime in a ceremony that will include the revealing of a banner in the rafters.
BUY TICKETS: Tickets for the game may be purchased at UNLVtickets.com, by calling 702-739-FANS or in person at the TMC Box Office.