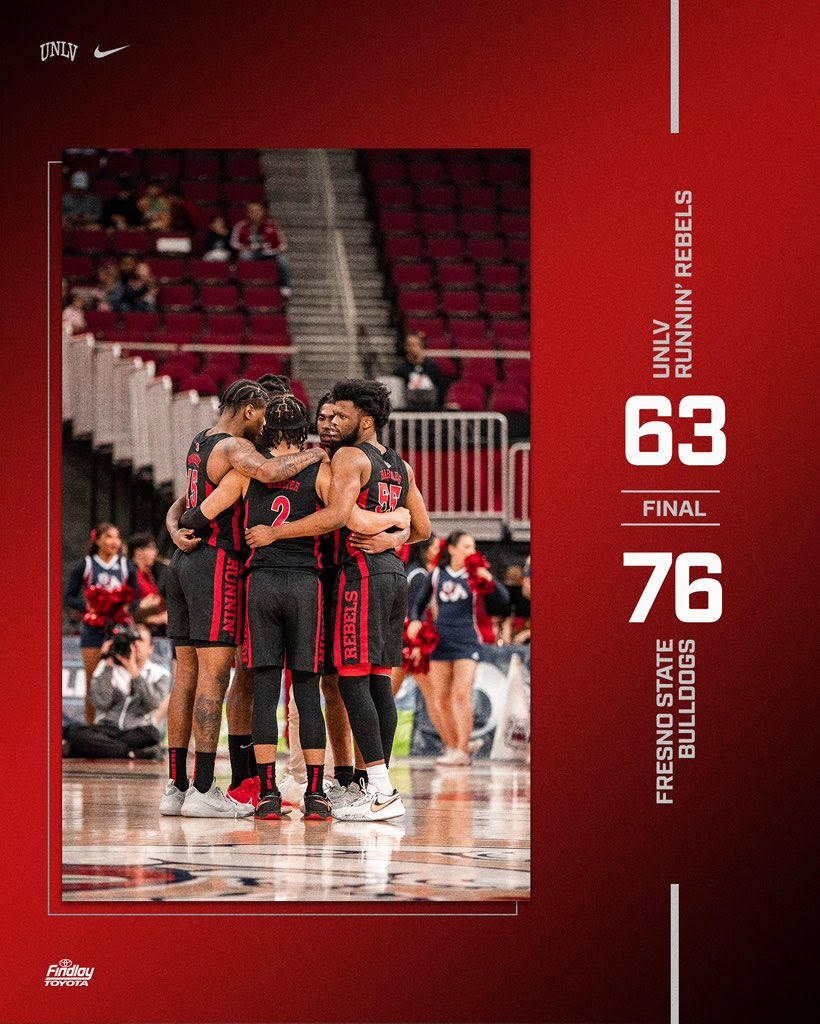 UNLVRebels.com
The UNLV men's basketball team lost to Fresno State, 76-63, Saturday afternoon at the Save Mart Center.
EJ Harkless led the Runnin' Rebels (12-7 overall, 1-6 Mountain West) with 15 points, seven rebounds, four assists and two steals, while Keshon Gilbert scored 11 points and Keyshawn Hall added 10 points with five rebounds.
Fresno State (7-11, 3-4) was led by Isaiah Hill's game highs of 28 points and five assists. Eduardo Andre had a double-double with 16 points and 13 rebounds.
STAT OF THE GAME: Fresno State shot 54.3% from the field (25 of 46) and 47.4% on 3-pointers (9 of 19).
UNLV'S SHOOTING: The Runnin' Rebels shot 50.0% from the field in the first half (12 of 24), but managed just 33.3% over the final 20 minutes (9 of 27), finishing the game at 41.2%.QUOTABLE: "There is frustration, but we need to just keep going at it. We need to get our edge and that chip back again and it's hard to do when you are struggling, but we have to understand and realize that coming into the season when no one really expected us to do anything, we had an edge and a chip and we have to get that swagger and confidence back. There were a lot of really good stretches (today) where we did things well, but unfortunately there were just a few more where we didn't." – UNLV head coach Kevin Kruger.
OTHER NOTES:
– Elijah Parquet returned from an injury he suffered on Dec. 10. He had missed eight straight games.- Luis Rodriguez was injured late in the first half after scoring five points and didn't return. – It marked UNLV's fourth-straight loss. Each opponent has shot over 50% from the field in those games.- UNLV committed a season-low-tying seven turnovers.- Fresno State out-rebounded UNLV, 33-23.- Hill was 7 of 12 from the field, including 4 of 7 on 3-pointers and he made 10 of 12 free throws.- Fresno State led by four at halftime, 37-33.- It was a four-point game just before the final media timeout, 63-59, however Fresno State outscored UNLV by nine from there.- UNLV has made at least one 3-pointer in a NCAA-record 1,180 straight games.NEXT FOR THE RUNNIN' REBELS: UNLV will return home to the Thomas & Mack Center for two games next week vs. Wyoming on Tuesday, Jan. 24 at 8 p.m. and on Saturday, Jan. 28 vs. UNR at 7 p.m. Tickets may be purchased at UNLVtickets.com, by calling 702-739-FANS (3267) or in person at the Thomas & Mack Center Box Office.