The Raiders ended their three-game losing streak Sunday in dramatic fashion as Derek Carr connected with Davante Adams for a 35-yard overtime touchdown to beat the Broncos, 22-16, on Sunday in Denver.
"He's a unique player," head coach Josh McDaniels said of Adams. "Very difficult no matter where you put him. I think the thing that makes Davante very special is just up here (mentally), he can think, process, understand the way he's being covered, the way people are playing him, leverage, route technique, setting up his routes, doing a lot of different things that allow him to get open and be special. I think sometimes when young players come into the league, they think it's all skill and talent."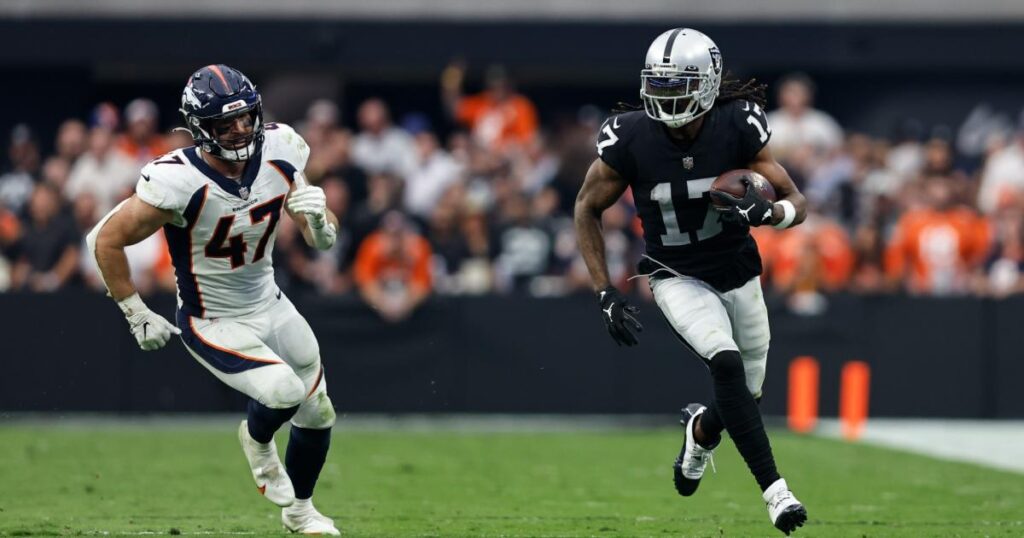 Adams finished the game with seven catches for 141 yards and two touchdowns as the Raiders moved to 3-7 overall, tied with the Broncos for last in the AFC West division. Earlier this season, the Raiders beat the Broncos at home, 32-24, again ending a three-game losing streak that started the season.
"Anytime you win on the road in your division, it's not an easy thing to do," McDaniels said. "It's a good team and they do a lot of things to make things difficult on you."
Carr finished the game with 307 yards on 22-of-37 passing with two touchdowns and no interceptions. Josh Jacobs rushed for 109 yards on 24 carries.
The Broncos led 10-0 in the second quarter when Carr hit Adams for a 31-yard touchdown pass to cut the lead to 10-7. The Raiders tied the game on a Daniel Carlson field goal early in the third quarter. The teams traded field goals before the Broncos Brandon McManus made a 48-yard field goal with 3:30 left in the game.
Carlson hit from 25 yards out with 16 seconds left to send the game to overtime.
The Raiders won the toss, took the kickoff and three plays later, Carr found a wide-open Adams for the score. That's a far cry from the way things have gone for the Raiders most of this season.
"We've been in a lot of games, and we've been right there in the end with an opportunity to win them," McDaniels said. "We're throwing it in the endzone the week before in Indianapolis and who knows, one of the weeks we come up with one of those and it's the same feeling we had yesterday. I think it was just really good for our players because they've put themselves in positions to have chances and so to be able to come through in the clutch, and it was really all three phases. It was special teams; it was the defense making a critical stop. It was the offense maybe having an opportunity in the two-minute to help us tie the game and then eventually score, and kickoff return starting the whole thing."