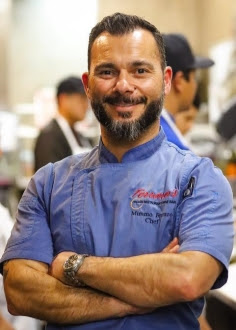 Ferraro's Ristorante invites guests to experience its upcoming Taste & Learn events on Saturday, June 17, and Saturday, July 22, at 5 p.m. Taste & Learn is Ferraro's popular, monthly wine-tasting and education event that provides illuminating wine education along with a menu of imaginative, authentic Italian small plates created by Ferraro's Executive Chef Mimmo Ferraro.
"This summer, we are delighted to spotlight seasonal dishes that perfectly pair with Italy's finest wines during our upcoming Taste & Learn events," said Mimmo Ferraro, executive chef, Ferraro's. "Ferraro's is passionate about helping both new and seasoned wine enthusiasts discover new favorites."
The June Taste & Learn event spotlights wines from Pieropan and Argiano. Since 1901, four generations of the Pieropan family have produced world-renowned wines in Verona, Italy. With roots dating back to ancient Roman times, the Argiano estate has long been producing fine wines in the Montalcino region of Tuscany. The winery represents the perfect marriage of history and innovation in winemaking.
Guests attending June's Taste & Learn will begin with the Pieropan Soave, a fresh and versatile white wine made with Garganega and Trebbiano di Soave grapes. Second on the menu is the Argiano Rosso di Montalcino, a lively ruby red with aromas of cherry and red berry. Next, the Argiano Non Confunditur Rosso Toscano offers fruity notes and a touch of oak. Lastly, guests will conclude the tasting with the Argiano Brunello di Montalcino, a broad and complex wine with hints of aromatic herbs and spices.
The full menu of June wine and food pairings follows:
Pieropan Soave
Crostini di Burrata, Piselli e Asparagi
Toasted Italian bread, smashed peas, asparagus, burrata, Intensity micro greens, extra virgin olive oil
Argiano Rosso di Montalcino
Risotto ai Porcini e Parmigiano
Porcini mushroom risotto, mascarpone, crispy Parmigiano Reggiano
Argiano Non Confunditur Rosso Toscano
Ravioli di Agnello e Tartufo Nero
Braised lamb ravioli, pecorino sauce, black summer truffles
Argiano Brunello di Montalcino
Anatra con Brunello
Seared duck breast, raspberry Brunello reduction, spinach, potato purée
The July Taste & Learn event spotlights wines from Fumanelli. Located on the Squarano Estate in Verona, Italy, the Fumanelli winery produces remarkable red and white wines aged in limestone cellars excavated in the 15th century.
Guests attending July's Taste & Learn will start the tasting with Fumanelli's Terso Bianco, a crisp white wine with excellent structure and complexity. Next is the Valpolicella Classico Superiore, which offers the scent of mature red fruits such as Marasca cherries. Third is the Amarone della Valpolicella Riserva, a dark red lightly spiced with vanilla and nutmeg. Guests will conclude the tasting with Fumanelli's Amarone della Valpolicella Riserva Octavius, a full-bodied and warm red wine with notes of cocoa.
The full menu of July wine and food pairings follows:
Fiano Fumanelli Terso Bianco 2014
Tagliatelle di Seppia con Granchio
Squid ink pasta, lump crab, herbs
Fumanelli Valpolicella Classico Superiore 2018
Quaglia con Risotto al Valpolicella
Herb roasted quail, Valpolicella risotto
Fumanelli Amarone della Valpolicella Riserva 2017
Spezzatino di Cinghiale
Wild boar stew, seasonal vegetables
Fumanelli Amarone della Valpolicella Riserva Octavius 2015
Torta di Cioccolato Fondente, Mirtilli, e Amarone
Dark chocolate cake, blueberries, Amarone chocolate drizzle
Tickets for the all-inclusive experience are $110 per person per event and space is limited. To make reservations, please call (702) 364-5300.
ABOUT FERRARO'S RISTORANTE
Las Vegas, known worldwide as the food mecca for the most discerning palates, houses one of the leading upscale fine dining establishments for Italian cuisine, Ferraro's Ristorante. Featuring a chic and modern ambiance, Ferraro's is synonymous with extraordinary service and unforgettable dining experiences. Guests savor flavorful, uncomplicated dishes utilizing only premium ingredients, all-natural meats and seafood, and fresh, hand-made pasta. A recipient of the internationally acclaimed Gambero Rosso award for wine, the venue's extraordinary list is recognized as one of the top Italian wine collections in the world. Headed by Executive Chef Mimmo Ferraro, classic training, ingenuity, and passion for the Italian kitchen bring authenticity and creativity to the menu, carrying on the tradition and history that made Ferraro's an iconic name in the culinary space.
Whether joining for happy hour, dinner, or late-night fare, in addition to the classic dishes you can order a la carte, guests may request a guided tasting menu that includes exquisite wine pairings. The meticulous care put into each detail makes this a truly unique place. Open daily with a main dining room, private seating, lounge, and patio options, a memorable culinary adventure awaits.
Ferraro's Ristorante is located at 4480 Paradise Rd. Las Vegas, NV 89148. For more information or reservations, call (702) 364-5300 or learn more online at www.ferraroslasvegas.com.