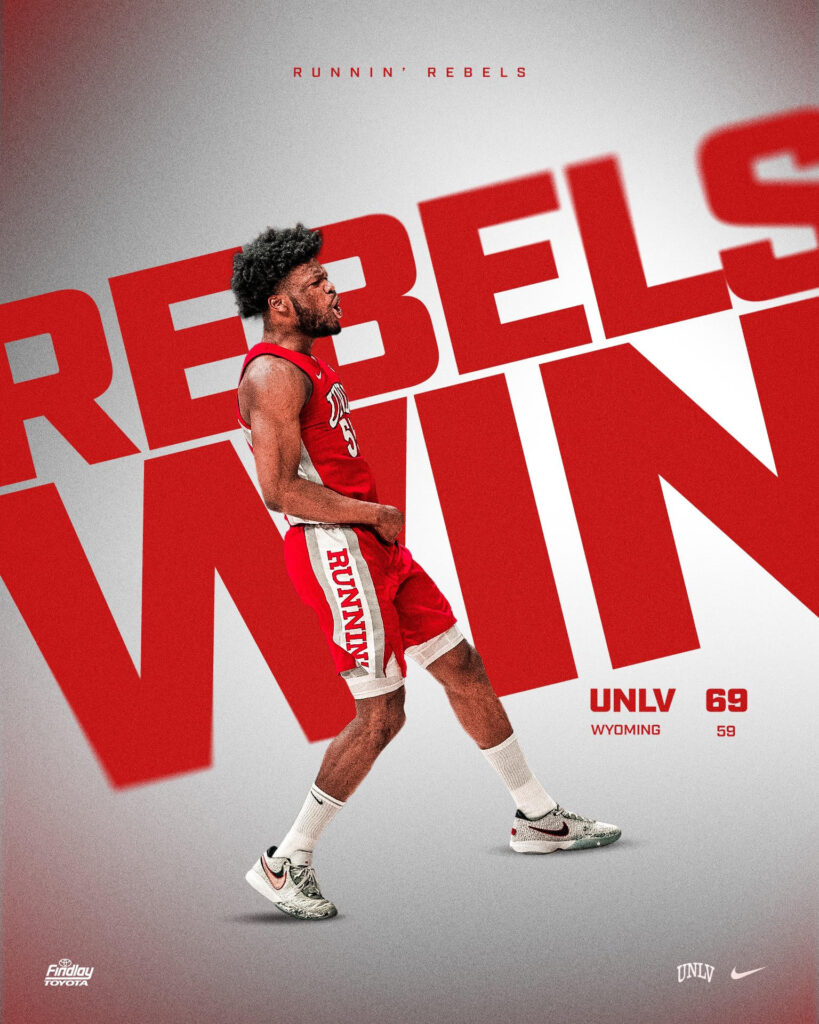 UNLVRebels.com
The UNLV men's basketball team recorded a regular-season sweep of Wyoming with a 69-59 road win Wednesday night at Arena-Auditorium.
The Runnin' Rebels, who also defeated the Cowboys, 86-72, on Jan.24 in Las Vegas, have now won four of their last five games.
EJ Harkless made a season-high five 3-pointers and led all scorers with a career-high-tying 33 points, while Keshon Gilbert added 10 points for UNLV (16-8 overall, 5-7 Mountain West).
Wyoming (7-16, 2-9), which was down five players because of injuries and others leaving the team, had four score in double figures, led by Hunter Maldonado's 17 points.
STATS OF THE GAME: After shooting just 25% in the first half, UNLV shot 47.4% after halftime. The Runnin' Rebels made 22 of 25 from the free-throw line in the second half (88%).TURNING POINT: After halftime, Harkless' two 3-pointers along with one from Jordan McCabe made up a 9-0 run for UNLV, which gave the Runnin' Rebels a 38-33 lead with just under 16 minutes to go. UNLV would not trail again in the game.
WYOMING DIDN'T GO AWAY: UNLV pushed its lead to 11 but Wyoming fought back to cut its deficit to just three at 52-49 with under eight minutes to play. Elijah Parquet's 3-pointer just before the shot clock expired gave UNLV a 61-50 advantage with four minutes to go and the Runnin' Rebels cruised from there. Of note, it was only the fourth made 3-pointer from Parquet this season.
OTHER NOTES:
– UNLV improved to 14-0 this season when limiting its opponent to 72 points or less.-
Harkless, who entered the game shooting 24% on 3-pointers this season, made 5 of 8 against the Cowboys. He was 8 of 12 from the field, 12 of 14 on free throws, had a team-high eight rebounds and contributed two assists and a steal in 33 minutes of action.- Harkless has now tallied double figures in scoring on 21 occasions this season. He has scored 20 or more eight times, including in each of the last two contests.- Gilbert was 5 of 6 on free throws, had five rebounds, three assists and two steals.- UNLV has now won seven of the last nine meetings in the series against Wyoming and nine of the last 12. UNLV has won three of its last four in Laramie.- Wyoming led in points in the paint 30-8, but UNLV's bench outscored the Cowboys' 14-6.- There were 10 lead changes and five ties throughout the game. – UNLV's first six made shots of the game were all 3-pointers. The Runnin' Rebels finished the first half with just eight total field goals and led 25-24 at the break. UNLV didn't make a two-point shot until over 18 minutes had gone by in the game.- Jordan McCabe returned to the lineup after missing the last two games.
– UNLV has made at least one 3-pointer in a NCAA-record 1,185 straight games.
NEXT FOR THE RUNNIN' REBELS: UNLV will play its second straight game on the road this Saturday, Feb. 11 at No. 25/23 San Diego State. The 1 p.m. game will be televised on Fox.