The Las Vegas Super Bowl is a unique opportunity for local minority businesses to take advantage of. It is providing them with the resources and funding they need to expand their operations, create new jobs, and build up their communities.
The Las Vegas Super Bowl Host Committee, in conjunction with the NFL and Las Vegas Raiders, hosted a live information session on the Super Bowl LVIII Business Connect Program.
Headshot of Las Vegas Raiders , Thursday, June 7, 2022, at the Las Vegas Raiders Headquarters in Henderson, Nev.

Michael Crome, CFO of the Las Vegas Raiders
Myisha Boyce, Project and Diversity Ambassador
BJ Wayner, NFL Business Connect program lead.
The Super Bowl LVIII Business Connect program is a partnership between the National Football League (NFL) and the Las Vegas Super Bowl Host Committee. The program works to connect experienced, event-ready Las Vegas businesses with opportunities to compete for contracts related to Super Bowl LVIII. The Business Connect program is committed to supporting minority, woman, disability, LGBTQ+ and veteran-owned businesses through professional development, networking, and sub-contracting opportunities. Certified businesses selected for the program will be profiled in the Business Connect Resource Guide, which NFL vendors and event producers use to identify and select local suppliers to fufill their Super Bowl LVIII sub-contracting needs.
Buisness Connect Program Eligibilty:
Be 51% owned by a minority, woman, disabled, LGBTQ+ or veteran individual
Provide a product or service requested by Business Connect
Be the direct source of the goods and services proposed in their bid
Be in good standing and eligible to do business with the state of Nevada
Have been in operation and have an established office in Las Vegas since June 2020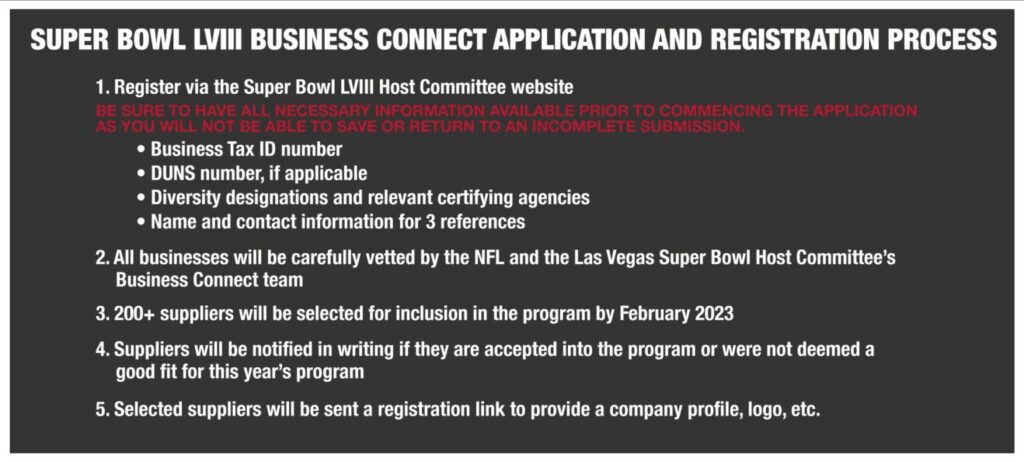 Super Bowl LVIII Business Connect application here.
The program offers a wide range of benefits that local businesses can take advantage of, such as access to capital, free business advice and mentorship, and marketing support. With the deadline quickly approaching, now is the time for local businesses to make sure they are taking full advantage of this incredible opportunity before it's too late.
Thanks for reading. Make sure to bookmark this site and check back daily for the latest Las Vegas sports news and analysis year-round. Also, you can follow me on Twitter at @MikeDixon_VST, @VegasSportsTD, and that's where you can ask questions. You also can ask questions via email at [email protected]