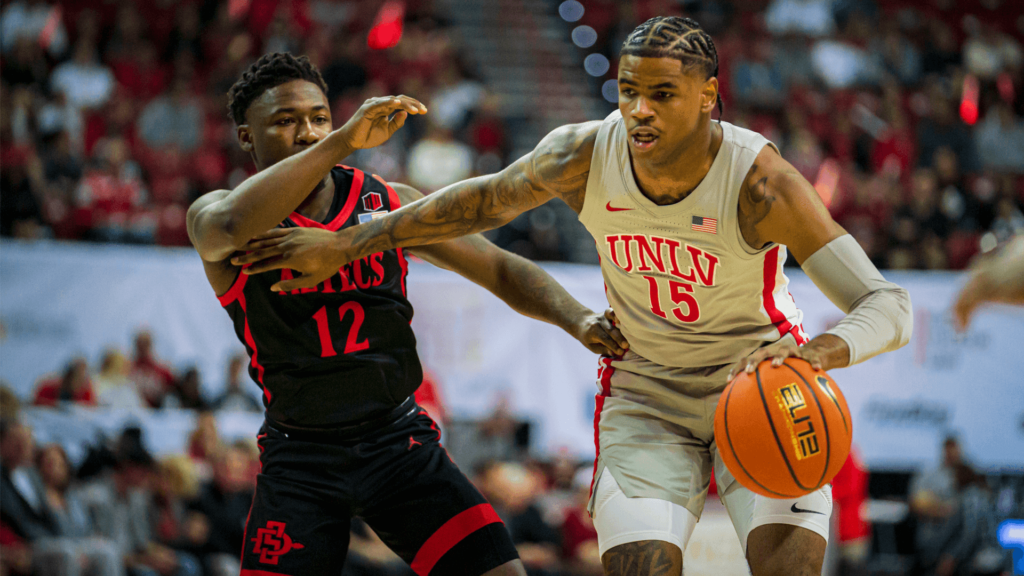 By Kirk Kern
The UNLV basketball team got some good news on Thursday when guard Justin Webster tweeted that he would return for his extra COVID year. But that doesn't quite make up for the bad news of sophomore starter Keshon Gilbert, freshman guard Keyshawn Hall and senior center Victor Iwuakor all entered the transfer portal.
The loss of Gilberrt and Hall particularly stings in that they were both underclassmen who most likely would have played key roles not only next year but in years to come.
UNLV had already lost starters E,J. Harkless along with regulars Elijah Parquett and Jordan McCabe, who have exhausted their eligibilty. And with only two incoming recruits signed, coach Kevin Kruger will have to go to the transfer portal again to make up the majority of his team.
Signed for next season are freshman Brooklyn Hicks of Washington and junior college forward Robert Whaley.
Hicks is a 6-foot-3 guard from Timberline High in Lacey, Washington. Hicks was picked as "Mr Basketball" for the state by the coaches as the best player in all classifications. This past year, Hicks averaged 32 points per game and led his team to the state tournament. He scored more than 2,000 points in his high school career.
Whaley is 6-foot-6 and attended the College of Southern Idaho the last two years. He is originally from Bountiful, Utah. He started all 28 games this past season after coming off the bench his freshman year. He averaged 14.4 points per game as a sophomore and 5.3 rebounds.
The UNLV roster is still in a state of flux as two other senior regulars, David Muoka and Luis Rodriguez haven't made their intentions about coming back known.
That leaves a core group of Webster, Shane Norwell and Jackie Johnson III as the only members of the roster who played any substantial minutes. Former Bishop Gorman center Isaiah Cottrell, a 6-10 transfer from West Virignia, played in only one game for the Rebels this past season due to injury, but started 28 games for the Mountaineers as a freshman in 2021-22.
UNLV entered this past season with eight new players via the transfer portal, along with freshman Hall. It didn't work out quite so well, even after starting the season 10-0. In Mountain West Conference play, UNLV finished 7-11 (good for sixth place) and bowed out of the MWC tournament with a loss to Boise State. Their final record was 19-13.