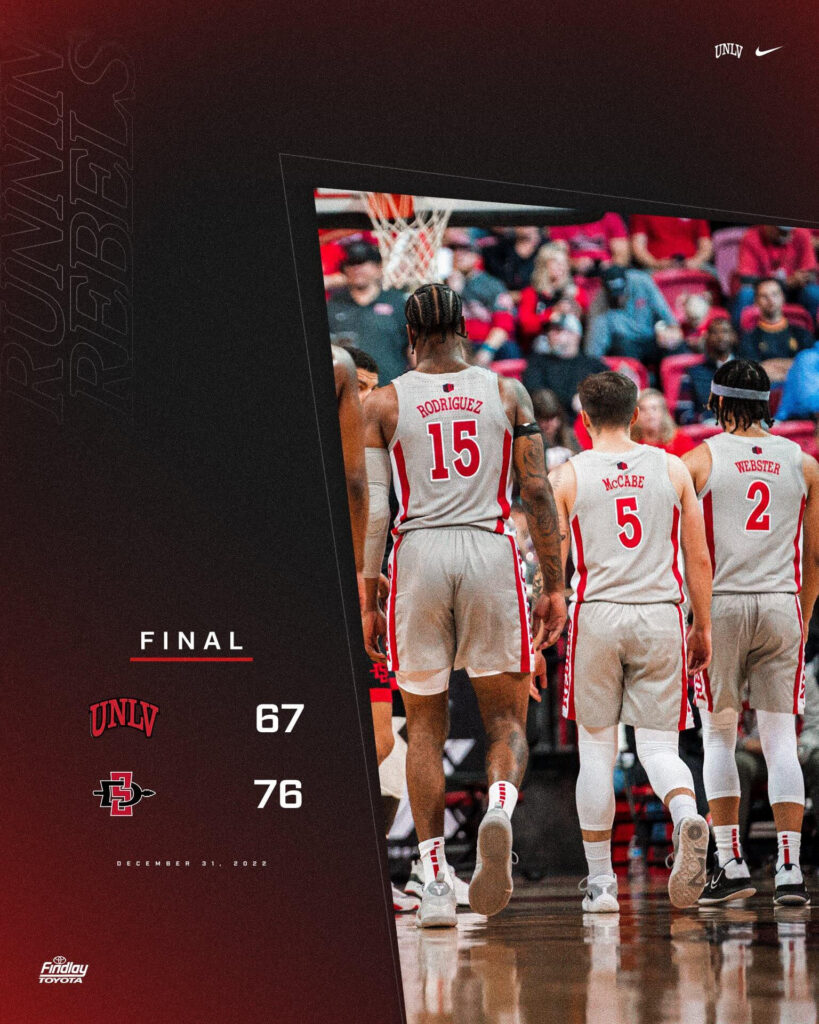 UNLVRebels.com
The UNLV men's basketball team (11-3, 0-2) suffered a home loss on New Year's Eve to San Diego State 76-67 at the Thomas & Mack Center.
Luis Rodriguez scored a career- and game-high 24 points, including four 3-pointers, with a team-high-tying six rebounds, while EJ Harkless added 18 points with a season-high eight assists, and Justin Webster contributed 10 points on three 3-pointers.
The Aztecs (11-3, 2-0) had two players score over 20 points in Matt Bradley (23) and Darrion Trammell (21). The pair was 9 of 15 on 3-pointers. Nathan Mensah had a game-high 11 rebounds.
TURNING POINT: UNLV led 17-10 with 13 minutes to go in the first half when San Diego State went on a 21-6 run. The Aztecs then increased their advantage to 11 at the half, 44-33. UNLV cut the deficit to just five points on two occasions – the latest with under five minutes to play – but could get no closer.FORCING TURNOVERS: UNLV entered the game ranked No. 3 in the nation in forcing turnovers and made San Diego State turn it over 22 times, which is the Aztecs' season high.SHOOTING: SDSU shot 56.7% (17 of 30) from the floor in the first half, including 57.1% (8 of 14) on 3-pointers, but the Runnin' Rebels held them to just 28.6% from the field after halftime. SDSU managed just six field goals over the final 20 minutes, but finished the game at 45.1% (23 of 51) from the field and 52.4% on 3s (11 of 21). UNLV shot 44.4% (12 of 27) from the field in the first half and finished at 36.7% (22 of 60) overall.QUOTABLE: "We are a team that hates losing so there's a lot of frustration in the result. There was a stretch where they got a cushion and we weren't able to come back. There was a lot of fight and compete, so we need to dust ourselves off and get back at it Monday to get prepared for next weekend." – UNLV head coach Kevin Kruger.
OTHER NOTES:– UNLV has forced at least 20 turnovers in nine of its 14 games this season.- San Diego State won the rebounding battle, 39-28.- San Diego State's bench outscored UNLV's 20-8.- UNLV led in points off turnovers (18-16), points in the paint (20-18) and second-chance points (17-12).- There were five lead changes and two ties throughout the game.- UNLV has made at least one 3-pointer in a NCAA-record 1,175 straight games.NEXT FOR THE RUNNIN' REBELS: UNLV will have a week between games with its next being a road trip to No. 22 New Mexico. That contest is scheduled for Saturday, Jan. 7 at 6:30 p.m. PT and will be televised on CBS Sports Network.