Raiders have been deeply involved in supporting Girls Flag Football in Nevada since relocating to the Valley. For two years running, the Raiders have celebrated Girls Flag Football by showcasing select high school football matchups each week throughout the season. Working with Intermountain Healthcare, Raiders Alumni, Raiderettes and Youth Football staff showed their support by attending games, gave away Raiders-themed items including eye black patches and sweatbands, and assisted with the coin toss prior to kickoff.
The Raiders honored a Girls Flag Football coach each week during the season with the Tom Flores High School Coach of the Week award. Named after two-time Raiders Super Bowl winning Head Coach and recently enshrined Pro Football Hall-of Famer Tom Flores, the Tom Flores High School Coach of the Week Program is designed to recognize high school football coaches who continuously demonstrate hard work and dedication to their football programs by creating successful teams and players both on and off the field.
Raiders show continued support with Southern Nevada Flag football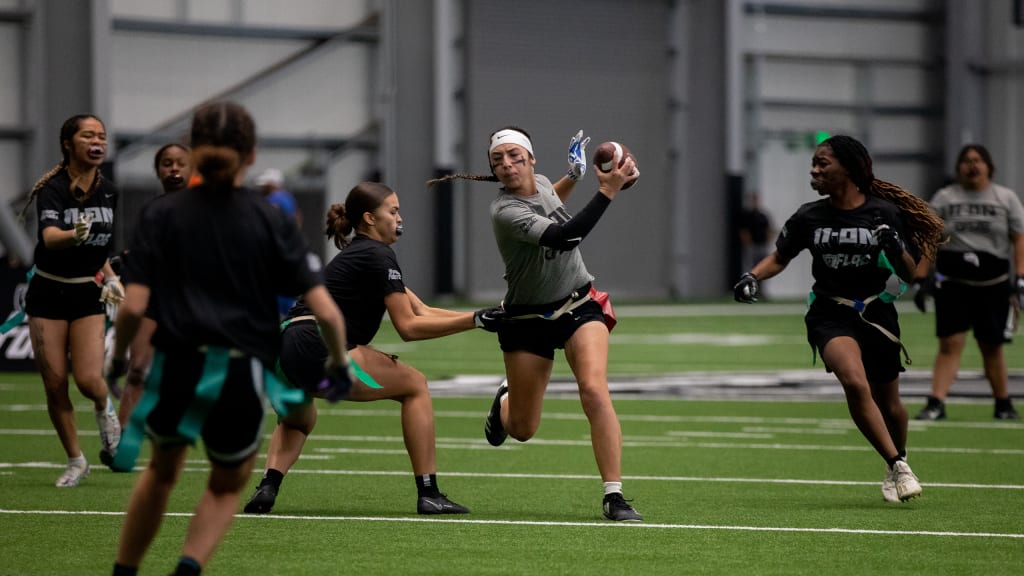 Also, for the past two years, the Raiders partnered with the Southern Nevada Flag Football Coaches Association and Allegiant to host the Southern Nevada High School Girls Flag Football All-Star Game. Prior to the game, the Girls took part in a combine event which served as a showcase to perform physical and mental tests in the hopes of attracting the attention of college recruiters.
"Inspire" is a unique endeavor that focuses on team play, skill development, combine testing and an All-Star game. Allegiant stepped in to provide assets for the participants including uniforms, camp shirts and giveaway items. Nike has joined in to provide the participants with additional items.
The NFL-style combine testing included the 40-yard dash, vertical jump, 3-cone drill and 20-yard shuttle that served as a skills showcase in the hopes of attracting the attention of college recruiters. The Girls High School Flag Football All-Star game consisted of players selected by coaches and media concluded the "Inspire" festivities, with Girls divided into "Silver" and "Black" squads by classification (3A, 4A & 5A) After the game three outstanding players were awarded game balls and $250 Allegiant flight vouchers.
There are presently 15 National Association of Intercollegiate Athletics (NAIA) colleges that offer flag football programs, creating new scholarship opportunities for women. Girls Flag Football is a varsity sport in Nevada, which is currently home to 36 high school Girls Flag Football teams – the second highest number of teams in the nation, behind only Florida. Five other states presently sanction high school flag football for Girls (Alabama, Alaska, Arizona, Georgia, and New York).
In December 2020, the Raiders collaborated with the Girls Football Association and the NAIA to host a two-day virtual coaches' clinic in preparation for the High School Girls Flag Football season. Topics included season preparation, practice efficiency, X's and O's strategy and coach/player relationships. Earlier that year, the Raiders collaborated with the NAIA to host the first "Girls Flag Football Showcase" at the Girls Flag Football 4A State Championship Game between Green Valley and Las Vegas High. Each school received cheer cards and Raiders-branded swag items. The Raiderettes and Alumni Leo Gray and Roy Hart were on-hand to coordinate the coin toss, autograph cheer cards and engage with students.
Coaching staffs from Las Vegas Girls Flag Football high school teams participated in several Raiders Coaches clinics. Football and medical experts developed the clinics to help coaches provide exceptional football experiences to student-athletes and become "Heads-up" certified by USA Football. The Raiders covered all clinic costs, enabling coaches to receive training at no charge.