Game picks from around the NFL
See which experts are picking the Raiders and Seahawks in their week 12 matchup. The second half of the season is here, so check out the game picks to stay ahead of the game.
Raiders vs. Seahawks Odds
Moneyline: Raiders (+125) | Seahawks (-150)
Spread: LV +3.5 (+155) | SEA -3.5 (-190)
Total: 47.5 – Over: (-110) | Under: (-110)
Game Info: Nov. 27, 2022 | 1:05 p.m. PT | CBS

NFL.com's Picks: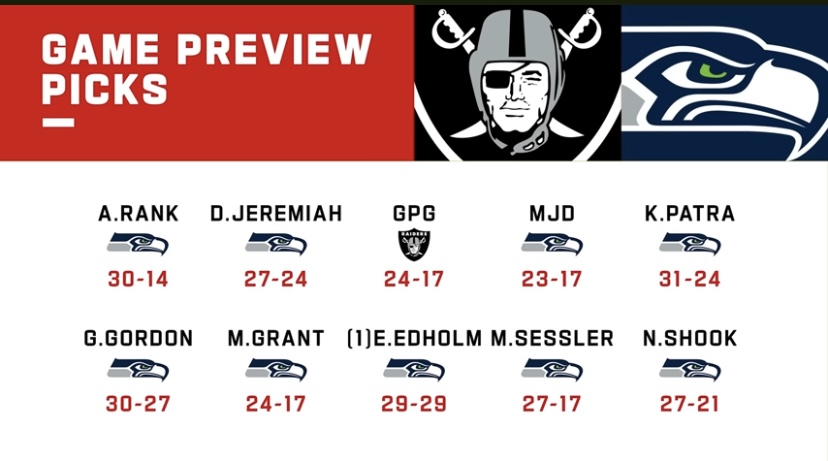 CBS Sports' Expert Picks: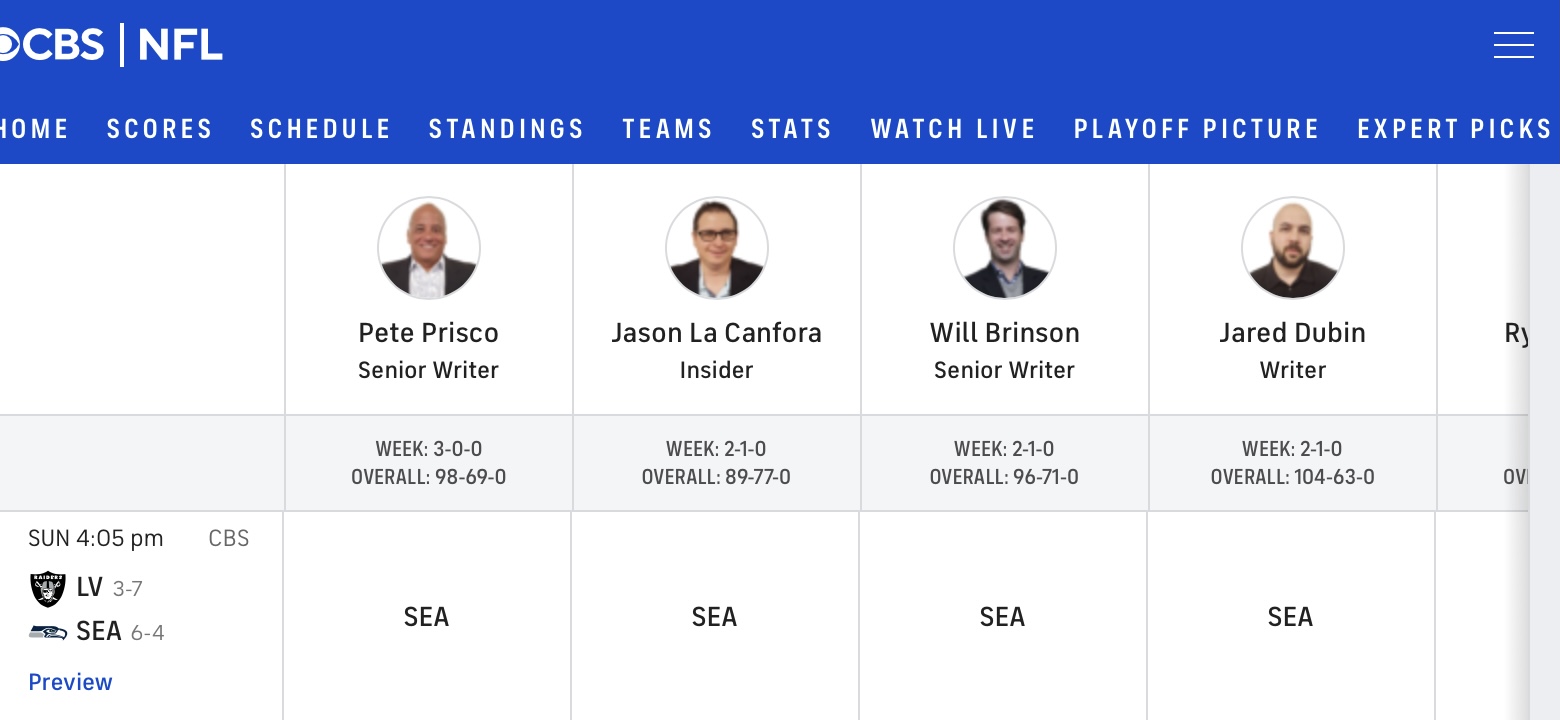 USA Today's Picks:
Prince: Seahawks
I like Seattle at home out the bye. Huge game for Geno Smith loading.
Blake: Seahawks
The Raiders' suffering will continue until moral improves.
Charles: Seahawks
How can you NOT bet on Seattle to win this by at least four?
Caroline: Seahawks
Going with the kiss of death picks sweep.
Las Vegas Media Picks:
Mike Dixon, Vegas Sports Today: "I like the Seattle Seahawks moneyline at home, because the Seahawks' have the better overall defense, and are getting great play out of Geno Smith. Deciding factor: Seattle has the edge with home field advantage due to the weather elements."

Bryan Salmond, NBC News 3: "I think the Raiders win 28-24."
Jesse Merrick, NBC News 3: "Geno's been efficient and the Raiders defense has been leaky on the back end at times. I think he'll have success and they'll be able to have nice balance with the run game. Offensively, outside of a couple coverage breakdowns the Raiders didn't get much going in Denver and could struggle against a better Seahawks defense. Josh Jacobs' late add to the injury report isn't promising either. I'll take Seattle 24-20."
Louis Grasse, Vegas Sports Today: "Raiders win by a field goal. I feel like they are going to thrive off the motivation of last week's win."
Mel & Mo, GirlChat Sports: Mel: "Two things Seattle is used to that the Raiders aren't: rain & NOISE! The 12s will come with it, rain or shine! Just coming off a bye week for the team to recharge & rested. With the young talent in the backfield for Seattle, Derek Carr may struggle with the long ball. And yes the Raiders have Jacobs, but don't forget about Seattles' rookie Kenneth "K9" Walker III. Seattle just needs to play 4 qtrs of good football & a win happens. Seattle by 9." –
Mo: "The Raiders still have injuries on offense with Hunter Renfrow and Waller out of course.
But on defense Kolton Miller is out and that hurts the Raiders. Realistically I see the Raiders coming on top of this especially in one of the loudest stadiums in the league, however, we have the offensive weapons to make some play action happen with Josh Jacob's, whose close to getting into the 1,000 rush yards club.
I'm picking the Raiders just on the heart and curiosity of seeing my team prevail."