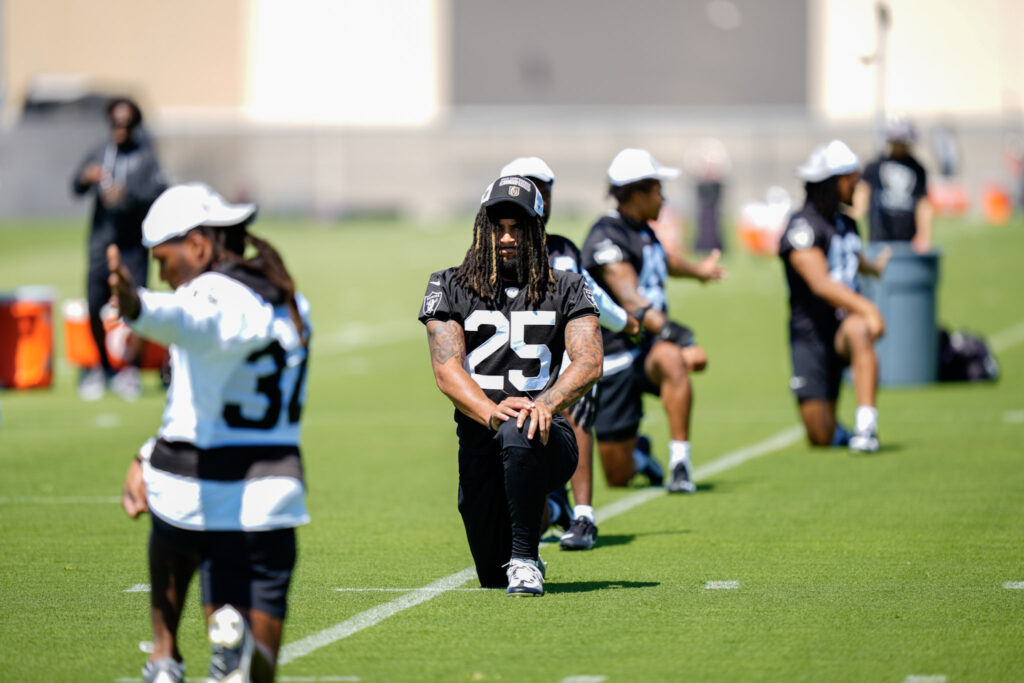 Not surprisingly, the Raiders had a 100 percent attendance at Tuesday's first day of mandatory mini camp at Intermountain Health Performance Center in Henderson. Of course, the word "mandatory" implies that everyone was there.
At least, everyone under contract. Josh Jacobs has yet to sign his deal, so he's not in attendance.
That doesn't seem to worry head coach Josh McDaniels though.
"Yeah, the deadline is not until July," he said. "So again, I respect everything about that process. This is not the first time that that's happened in terms of me being a part of that. Like I said, I stand by what I said before, love the kid, love the player, love the person and look forward to when I see him."
From his media interview on Tuesday morning, McDaniels loves a lot of his players. Here is a sampling of his comments on various players.
Undrafted free agent Drake Thomas: "Loves football, works hard. And again, if you come into the league in that capacity, which he did – and we have, like I said, we have a number of players – half our roster is undrafted. So those players understand like, 'I've got to work my butt off. I've got to really love every aspect of the game so I can try to improve.' Every rep he takes is a very intentional rep for him, whether it's in an individual period, a group period or team period. Good communicator, learns quickly, really studies hard from one day to the next so he's prepared the next day and a good teammate."
Third-year linebacker Divine Deablo: "Divine, I mean I'm really fond of Divine. I think he knows that, and we've given (the linebackers) a lot of responsibility. He's wearing the green dot in practice, which is obviously a role that young players, once they have that on their shoulders now they're responsible for more than just their job. They have to communicate to everyone else."
Third-year cornerback Tyler Hall: "Tyler is very diligent. He works really hard. He's smart. He knows his job. He knows really how his job fits in the whole entire context of the team, very competitive. As you saw last year when he got in there like he made an impact right away in certain ways. I expect nothing different this year. He's a very competitive player that made an impact for us on our roster last year, and I'm excited to see what he can do this year."