The Raiders aren't carrying the same high expectations coming into the 2023 season as they did in 2022, but this season they have a better roster.

For quarterbacks Jimmy Garoppolo and Russell Wilson, this may feel like heading into another one of their many NFC West duels, however this Sunday at Empower Field in Denver the two will square off for the first time in the AFC West.

In their 7 previous meetings, Wilson is (6-1) over Garoppolo-led teams, including a rare win for the Broncos last season on Monday Night Football where they beat Garoppolo's 49ers.
The Raiders boosted their overall talent this offseason, led by signing Garoppolo, a quarterback with less arm talent but better consistency and intangibles than the outgoing Derek Carr.

In addition to Garoppolo, the secondary—which previously ranked last or near the bottom in several categories—got a much needed boost in signing 3x Pro Bowl cornerback Marcus Peters.

Peters, who is still just 30, ranks 4th among all active players in career interceptions. The two-time All Pro looked fresh in practice and in the preseason, adding a much-needed swagger to the defense.

Peters is joined by Robert Spillane, who signed on to strengthen the linebacking corps for the Raiders, and 26-year old receiver Jakobi Meyers, who is ascending and coming off of a 800 yard season.

The Raiders also drafted a pair of players in the first two rounds in Tyree Wilson Jr. (7th overall) and Michael Mayer (35th overall) who can each contribute right away. Neither player will reach their potential in year 1, but neither one is such a project that they can't contribute to the team right now.
Raiders' defense looking to improve in 2023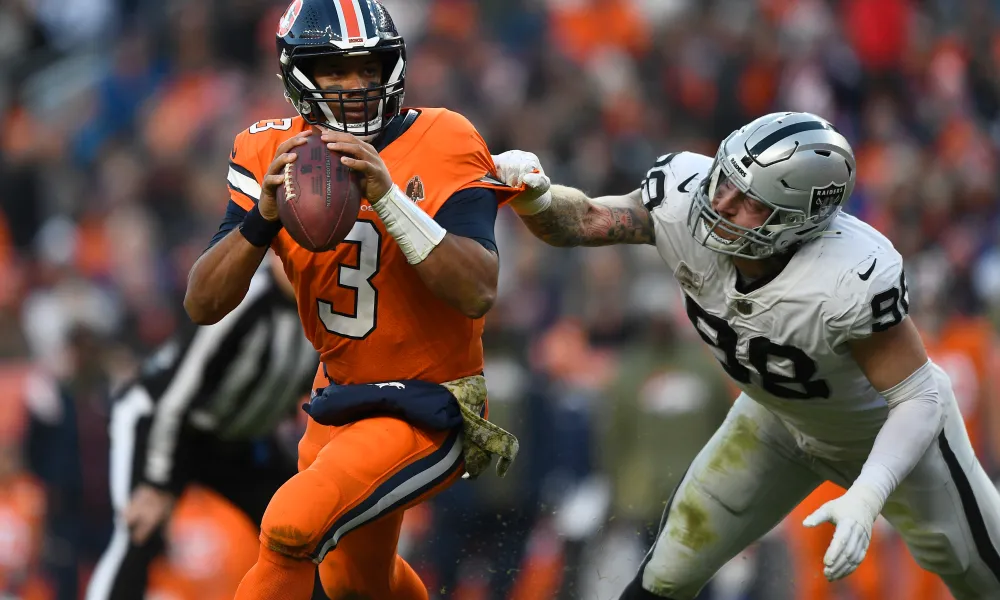 Wilson Jr. dealt with injuries during the offseason but is cleared to go in week 1. The rookie doesn't need 10+ sacks this year—that's Maxx Crosby's job—but if he can compliment Crosby and veteran Chandler Jones with additional pressure, the Raiders will be harder to deal with in the trenches.

Newly-signed All Pro running back Josh Jacobs is returning to the team just in time for week 1 and the Raiders, who blew back-to-back games last season instead of starting 2-0, play a very winnable game against the Broncos to begin their season.

Jacobs returns alongside fellow All Pro Davante Adams, who didn't miss a beat in recording over 1,500 receiving yards last year despite the Raiders scuffling to a disappointing 6-11 season.

Adams will be joined by Meyers, rookie speedster Tre Tucker and Hunter Renfrow in the receiving core. Renfrow, who previously was a 1,000 yard receiver in 2021, is reportedly much healthier now than he was in 2022, where he missed 7 games due to injury.

Add up the roster additions and the fact that the Broncos, who finished 5-12 last season, aren't very good on paper and there's no reason the Raiders shouldn't start their season right on Sunday.

The Broncos hired one of the greatest coaches of his era in Sean Payton, ending his short-lived broadcasting career. That alone should make the Broncos better to some extent, but how much better can Payton make Russell Wilson?

Wilson, who in his prime in Seattle had amazing improvisational skills helped in large part by his escapability and athleticism, looked like a shell of himself for his first year in Denver.

Payton knows how to succeed with undersized quarterbacks in the pocket—just ask Drew Brees. He'll know how to adjust for Wilson in the pocket if that's the only place he can really operate at now—if that stupendous improvisational ability is forever gone.

Wilson will be better under Payton, who is a brilliant offensive play-caller, and Wilson showed signs of life in his legs with a few pre-season scrambles, but it's doubtful he can return to the levels of his near-MVP form in Seattle.

The Broncos' underachieving defense, which sports stars like Patrick Surtain II, should receive a boost from The Payton Effect too, after disappointingly ranking in the middle of the pack last year.

But even greats like Walsh and Parcells usually needed a season to work the kinks out and get their programs going.

Hopefully that was the case for Josh McDaniels last season, as he definitely needs an improvement out of the Raiders, who are hoping to make the postseason for the first time since coming to Las Vegas.

The Raiders should capitalize on Payton gaining his bearings in Denver and get off to the kind of start they could have and should have last season.

Let's see if The Garoppolo Effect outweighs The Payton Effect in week 1.