The East-West Shrine Bowl, America's longest-running college football all-star game, which supports Shriners Children's, will be played on Thursday, Feb. 2, 2023, at 5:30 p.m. at Allegiant Stadium as part of NFL Pro Bowl week.
The event will bring approximately 130 of the nation's top college football players to Las Vegas. This year, for the first time ever, the players will be coached by two full NFL staff teams, the New England Patriots and the Atlanta Falcons, as they prepare to play in front of hundreds of NFL scouts, professional agents and media ahead of the 2023 NFL Draft. The NFL coaches will provide Shrine Bowl players with pro-level advisory and developmental opportunities, in addition to the once-in-a-lifetime chance to showcase their skills. Throughout the 98-year storied history of the East-West Shrine Bowl, the legendary game has produced more than 500 NFL Pro Bowl appearances.
CLICK HERE FOR CHEAP EAST-WEST SHRINE BOWL TICKETS.
"For 90% of these players and the NFL teams that might draft them, the East-West Shrine Bowl is the most important part of their draft process," said Erik Galko, East-West Shrine Bowl Director of Football Operations and Player Personnel. "It's a chance for them to be among their peers, it's a chance for NFL executives to finally see these guys up close and personal. It's an interesting time for a lot of these guys because they are kind of college players but are also becoming pros. It's a great doorway into the rest of their careers and we're honored that they get to learn more about Shriners Children's and its mission in the process."
A few of the notable players who have already committed to the 2023 Shrine Bowl include UCLA Bruins quarterback Dorian Thompson-Robinson, Boston College Eagles wide receiver Zay Flowers, Purdue quarterback Aiden O'Connell and University of Michigan tight-end Luke Schoonmaker and kicker Jake Moody.
Past greats to play in the game include Tom Brady, Walter Payton, Lawrence Taylor, John Elway, Gale Sayers, Jimmy Garoppolo, and current Las Vegas Raiders All-Pro performers AJ Cole and Darren Waller. The game boasts 78 former players who have been inducted into the Pro Football Hall of Fame.
2023 New Pro Bowl festivities announced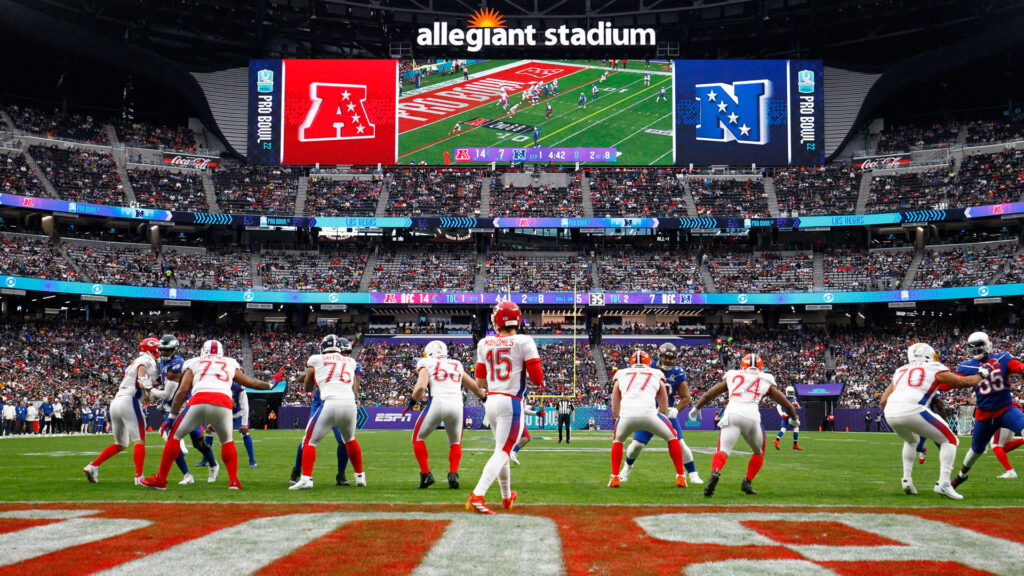 The National Football League has announced its Pro Bowl festivities in Las Vegas that will replace the annual game next February.
There are 10 total events for the Pro Bowl, with five on Feb. 2 and the other five three days later, one week before Super Bowl LVII in Glendale, Ariz.
CLICK HERE FOR CHEAP 2023 NFL PRO BOWL TICKETS.
Day one will consist of both a precision passing competition as well as a best catch contest, but that's hardly where the fun starts.
There also will be a dodgeball tournament — round one will be the AFC offense against its defense, as well as the NFC's offensive and defensive players going at it. The winners will face off in the finals. Four players from each conference will also grab their golf clubs for a long-drive competition.
There also will be a "Lightning Round" consisting of three contests in it alone. The first is a water-balloon toss, followed by catching punts from a JUGS machine. The final part of the challenge is called the "Thrill of the Spill," where players from each conference will aim at targets attached to a bucket hanging above the opposing conference's coach – the first team to dump the bucket on the other coach wins.
The Pro Bowl game featured the best players from both conferences going head-to-head in one final All-Star event to put the cap on the season. The Pro Bowl debuted in 1951 and has been played in Los Angeles, Hawaii, Miami, Phoenix, Orlando and Las Vegas.
Thanks for reading. Make sure to bookmark this site and check back daily for the latest Las Vegas sports news and analysis year-round. Also, you can follow me on Twitter at @MikeDixon_VST, @VegasSportsTD, and that's where you can ask questions. You also can ask questions via email at [email protected].