The UNLV men's basketball team (3-0) defeated No. 21 Dayton 60-52 Tuesday night at the Thomas & Mack Center, marking its first win over a ranked non-conference opponent at home in eight seasons.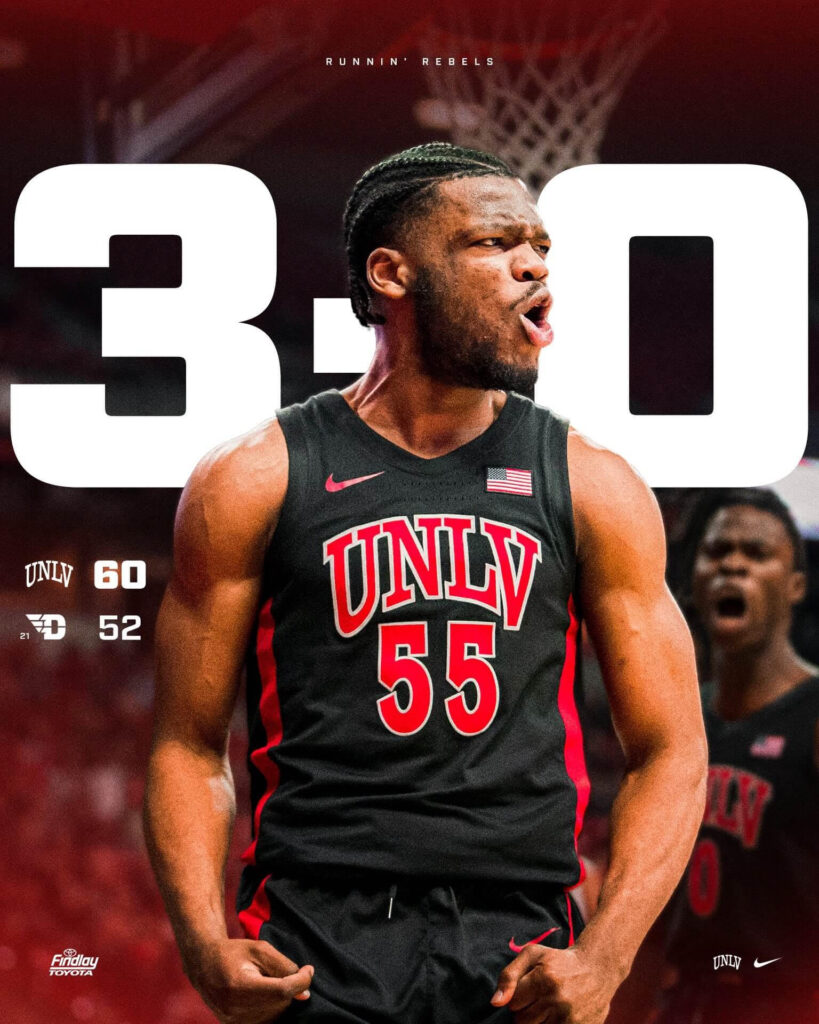 EJ Harkless scored a game-high 24 points on 9 of 19 shooting with six rebounds and three assists, while Keshon Gilbert added 16 points on 6 of 9 from the field with three assists and three steals. David Muoka was the game's leading rebounder with nine and also contributed four steals and two blocks.
The Flyers (2-1) were led by Kobe Elvis and Mike Sharavjamts with 16 and 14 points, respectively.
STAT OF THE GAME: UNLV held Dayton without a field goal over the final 6:45. The Flyers made just five in the entire second half.
STAT OF THE GAME II: UNLV outscored Dayton by 18 points in the second half (38-20), shooting 48.1% from the field and holding the Flyers to just 25%.
THE TURNING POINT: After erasing a 10-point halftime deficit and leading Dayton 50-47 with 6:46 left in the game, the Runnin' Rebels held the Flyers to 0 of 5 shooting the rest of the way, while forcing five turnovers.
QUOTABLE: "Obviously a highly emotional game with a lot of energy, and couldn't be more proud of them. The two days of prep, they were locked in and ready. With this being the first opportunity to get a win against a ranked team for this group, we were excited about it, but as coaches you wish you had more time to prepare for it. It came quick, but the guys stepped up and responded. I think we faced a double-digit deficit twice and both times we just came back swinging. But that's what these guys have done and that's what they do in practice every day – they just compete like crazy. It was just great to see it pay off for them." – UNLV head coach Kevin Kruger
NOTES: – The last win UNLV had against a ranked non-conference opponent at the Thomas & Mack Center was against then-No. 3 Arizona (71-67) on Dec. 23, 2014.- It is UNLV's first win against any ranked team since last season when it defeated then-No. 22 Colorado State in Fort Collins on Jan. 28.- UNLV forced Dayton to commit 24 turnovers, which marked the Runnin' Rebels' third time this season forcing their opponents to commit 24 or more miscues in a game.- UNLV recorded double-digit steals for the third straight game, finishing with 11 against Dayton.- UNLV scored 27 points off Dayton's turnovers, while the Flyers managed just eight off of UNLV's 17.- The Runnin' Rebels led in points in the paint 20-12.- UNLV trailed at the half, 32-22.
– It is the second straight year that UNLV has started the season 3-0.
– It was the first-ever meeting between the two schools in men's basketball and UNLV is now 5-2 all-time against schools that currently make up the Atlantic 10 Conference.
– UNLV has made at least one 3-pointer in a NCAA-record 1,164 straight games.
NEXT FOR THE RUNNIN' REBELS: UNLV will conclude its season-opening four-game homestand at the Thomas & Mack Center on Friday, Nov. 18 at 7 p.m. as it hosts High Point. Tickets are on sale at UNLVtickets.com, by calling 702-739-FANS or by visiting the Thomas & Mack Center Box Office.