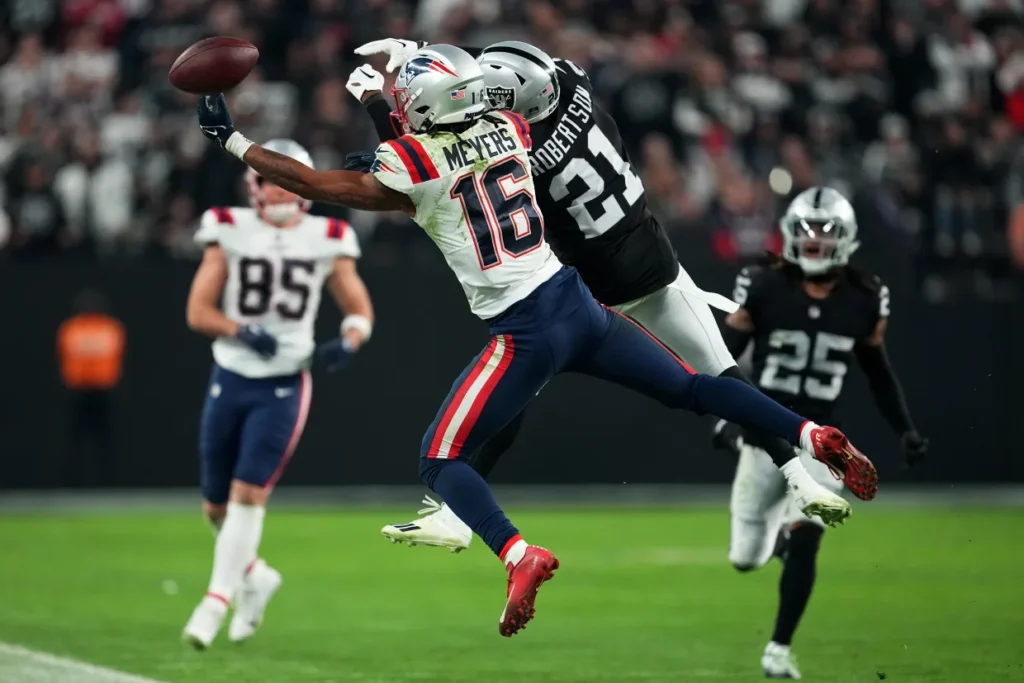 The Las Vegas Raiders have made a significant move in free agency by signing Jakobi Meyers. The 6-foot-2, 200-pound wide receiver has spent his entire career with the New England Patriots until now, and his addition to the Raiders' roster is sure to bolster their receiving corps.
Meyers has played in 60 career games with 39 starts, totaling 235 receptions for 2,758 yards and eight touchdowns. He had a career-best year in 2021 with 83 receptions for 866 yards, and he followed that up in 2022 with 67 receptions for 804 yards and a career-high six touchdowns.
The Lithonia, Georgia native played his college football at North Carolina State, where he appeared in 31 games over three seasons and finished with 168 receptions for 1,932 yards and nine touchdowns. He went undrafted in the 2019 NFL Draft but was signed by the Patriots shortly thereafter.
Meyers has proven to be a reliable target for his quarterbacks, and his size and athleticism make him a matchup nightmare for opposing defenses. He should be a valuable addition to the Raiders' receiving corps and could help them improve on their 2022 record of 6-11.
This signing is just one of many moves the Raiders have made in free agency as they look to build a competitive team for the 2023 NFL season. With the addition of Meyers, the Raiders are showing that they are serious about contending in the AFC West and beyond.
The Las Vegas Raiders have signed Jakobi Meyers, a talented wide receiver who brings a wealth of experience and talent to the team. Meyers has been a consistent performer throughout his career, and he should be a valuable asset to the Raiders' offense in the upcoming season. The Raiders are making moves in free agency, and this signing shows that they are committed to building a competitive team in 2023 and beyond.