On Sunday, the Kansas City Chiefs defeated the Philadelphia Eagles 38-35 in Super Bowl 57, the team's second title in four seasons. A controversial holding penalty by Eagles cornerback James Bradberry gave the Chiefs a chance to run out the clock and kick a game-winning field goal with eight seconds left, which Harrison Butker nailed from 27 yards.
Today, we got our first look at the logo for Super Bowl LVIII via a photo from the Las Vegas Super Bowl Host Committe's handoff meeting.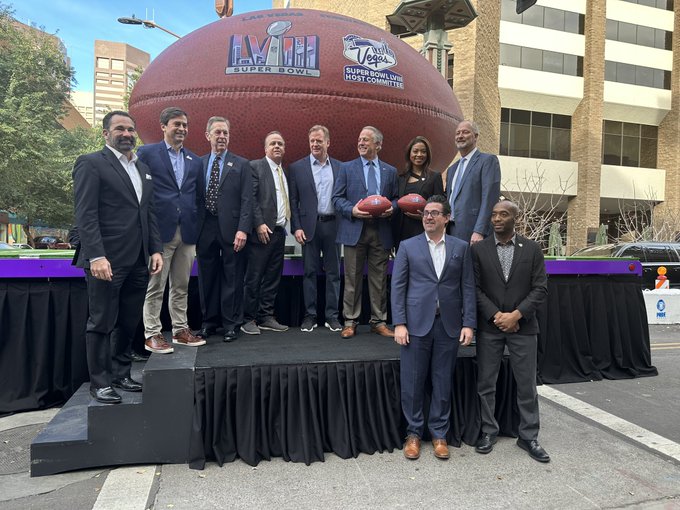 The handoff between Phoenix and Las Vegas for Super Bowl 58
The popular Vegas social media account teased out a video on Sunday.
With Super Bowl LVIII set to be played at Raiders' Allegiant Stadium in Las Vegas, home of the Las Vegas Raiders, the landscape design focuses on the Las Vegas strip features, coloured in silver/red, purple, and red with beams of light shining from the horizon replicating the design of the 'Welcome to Fabulous Las Vegas Sign.'
Thanks for reading. Make sure to bookmark this site and check back daily for the latest Las Vegas sports news and analysis year-round. Also, you can follow me on Twitter at @MikeDixon_VST, @VegasSportsTD, and that's where you can ask questions. You also can ask questions via email at [email protected]